Nottingham Library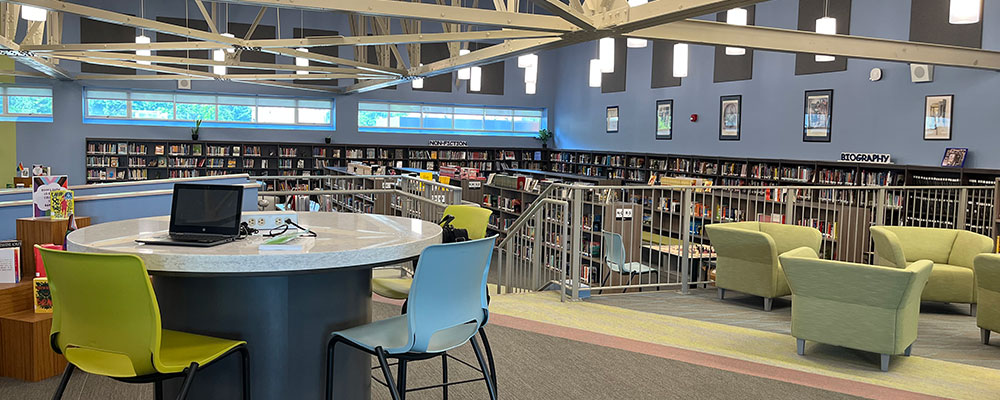 Phone:
(315) 435-6533
Library Media Specialist:
Ms. Carnegie
Library Hours:
7:45 AM - 2:45 PM


Open after school until 3:10 PM Monday through Friday

STAFF: Schedule
WELCOME!
The Nottingham Library is a beautiful learning hub that belongs to all in the bulldog community. We have over 10,000 books in our physical collection, a large collection of eBooks and audiobooks available through Sora, and subscribe to a wide variety of magazines. Staff and students: these resources are here for you!

In the space, you'll find quiet work and reading zones and a community zone where collaboration, creativity, games, and quiet conversation are encouraged.

SEARCH THE LIBRARY
Enter any words below to search the Syracuse City School District database collection and physical print collection

---
HOW TO VISIT
Lunch (24 Students Per Lunch)
Eating lunch in the cafeteria first?
Please see Ms. Carnegie before 10 AM to sign up for an orange pass. You will use this pass when you exit the cafeteria to come up to the library. No food or drink allowed.

Not going to the cafeteria?
You may report to the library at the beginning of your lunch. We will ask for your last name or ID when you arrive to verify it is your lunch. Please remember that food and drink are not allowed.
Study Halls
Students who wish to visit the library during their study hall must obtain a pass from their study hall teacher. Please present your pass and student ID when checking in.
BOOKS, EBOOKS, & AUDIOBOOKS
Books may be checked out for 3 weeks at a time. Please have your student or staff ID with you when checking out materials. Have a suggestion for the library? Let us know!
The first time you sign in, click 'Find my school' and look for 'Syracuse City School District.' Sign in using your District login information. This resource is for students AND teachers! eBooks and audiobooks will be checked out to you for 14 days and will automatically return on the 15th day.
Pick the font you use! Try OpenDyslexic- it increases legibility for some readers.

Adjust the lighting

Define words you don't know
EXPLORE
| | |
| --- | --- |
| | Design, remix, and play games while learning the code that powers them. Start with a tutorial game before building your own game or taking a deeper dive into a coding course. |
| | Choose from thousands of online courses to learn in-demand skills from real-world industry experts. Get started with an Onondaga County Public Library library card. |
| | Above the Noise is a show that cuts through the hype and takes a deeper look at the research and facts behind controversial and trending topics in the news. Hosted by Myles Bess. |
OTHER RESOURCES
New York Public Library Digital Did you know you could sign up for a digital New York Public Library card? New York residents ages 13 and older can get a digital library card through the online card application and gain access to an array of digital resources.

New York State Testing Computer-based practice tests.

Onondaga County Public Library There are 32 public libraries in Onondaga County. With a free library card, borrow books, eBooks, audiobooks, DVDs, and more! You can also use library computers with your library card and can access online resources such as LinkedIn Learning (thousands of online courses to learn in-demand skills from real-world industry experts)! In-person programming for all ages, such as story hours, makerspaces, computer classes, and more, are also offered.

The Post-Standard Access articles from the Post-Standard from 1986 to current. Images of the Post-Standard available from 2019 to current.