Health, Physical Education, & Athletics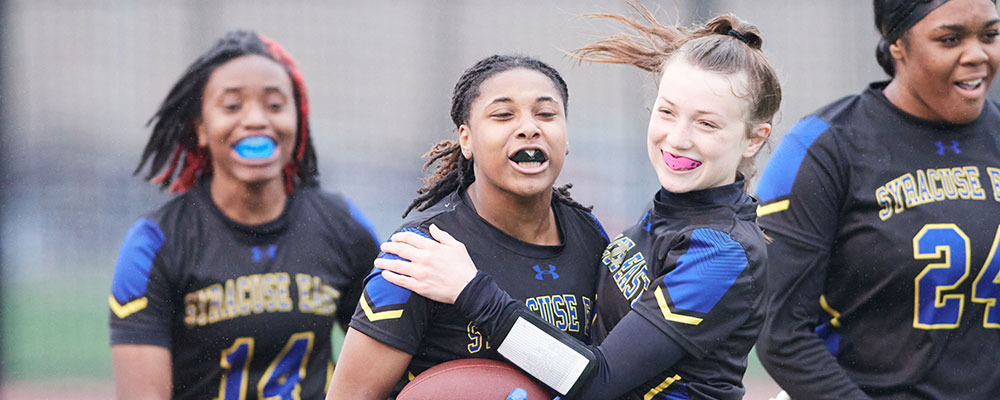 ---
Interim Administrator for Health, Physical Education and Athletics


April Wertheim



Director of Physical Education & Health
Benjamin Steuerwalt

Director of Athletics
Jesse Long

Supervisor of Athletics
Kevin Ryan
Contact info:
(315) 435-4181
Physical Address
218 Central Office
725 Harrison Street, Syracuse, NY 13210
Mailing Address
ATTN: Health, Physical Education and Athletics Department, 1025 Erie Blvd. West, Syracuse, NY 13204
Welcome
On behalf of the Syracuse City School District, welcome to our Interscholastic Athletic Program. This past year, more than 4,000 different student athletes participated in our athletic programs. We offer 120 different athletic teams for students in grades 7-12. Our coaching staff consists of certified, dedicated people who enjoy working with our student athletes. They are individuals who work very hard and care a great deal about the individuals for which they are responsible. In grades 7-8 we offer a comprehensive modified program, which serve as a "training ground" for skill development and participation. Winning is NOT emphasized and large numbers on teams are encouraged for maximum participation. We stress discipline, enjoyment or play, competition, and dedication to the value that hard work will produce rewards. The modified program prepares our young student athletes for the higher level of high school competition.
To participate at the high school level, a higher refinement of skill is necessary and competition is viewed at a higher level of comprehension. Our high school freshman, Junior Varsity, and Varsity teams strive for success and practice to produce as efficient a team and individual effort as possible. At the high school level, we stress the development of academics, goal setting, teamwork, leadership and sportsmanship.
Online Sports Registration is Now Available!

The Syracuse City School District Athletics Department is excited to announce that we are now offering the convenience of online registration for all sports teams through FamilyID (familyID.com). FamilyID is a secure registration platform that provides you with an easy, user-friendly way to register for our sports teams.

Before you begin the registration process your student-athlete must have a current physician's physical on file with the health office to participate in sports. If your student-athlete requires medication or self-carry's medication, the health office also needs documentation from your physician.

If your student-athlete's physical is expired, you may submit a new one to the health office by taking a picture or scanning a copy and uploading it to the FamilyID form or by bringing a copy to the appropriate school health office.

Registration is easy and quick. In order to set up an account with FamilyID and register for your sport, please follow the instructions below.
CREATE ACCOUNT

Visit FamilyID.com

Type FamilyID.com into your address bar
Click on 'Get Started NOW' button

Fill out form and click 'CREATE ACCOUNT'

Make sure you write your password down somewhere!

Activate account

Check your email (if you don't see the email, check your spam or junk folders)
Click on link in email from FamilyID

FIND SYRACUSE CITY SCHOOLS
Search for Syracuse City School District

The activation link in your email will bring you back to the FamilyID site where you will already be logged in
Type 'Syracuse City Schools District' in the search box and click 'FIND'
Click on 'Syracuse City School District'
REGISTER FOR SPORTS TEAM

Find your team and register!

Scroll down until you see your team
Click on your team
Click on 'REGISTER NOW' button
Fill out form

If you need assistance with registration, contact FamilyID at support@familyid.com or 888-800-5583 x1 or contact your student-athletes athletic department or school nurse.