Lincoln Middle School is Now Home to SCSD's First Service Dog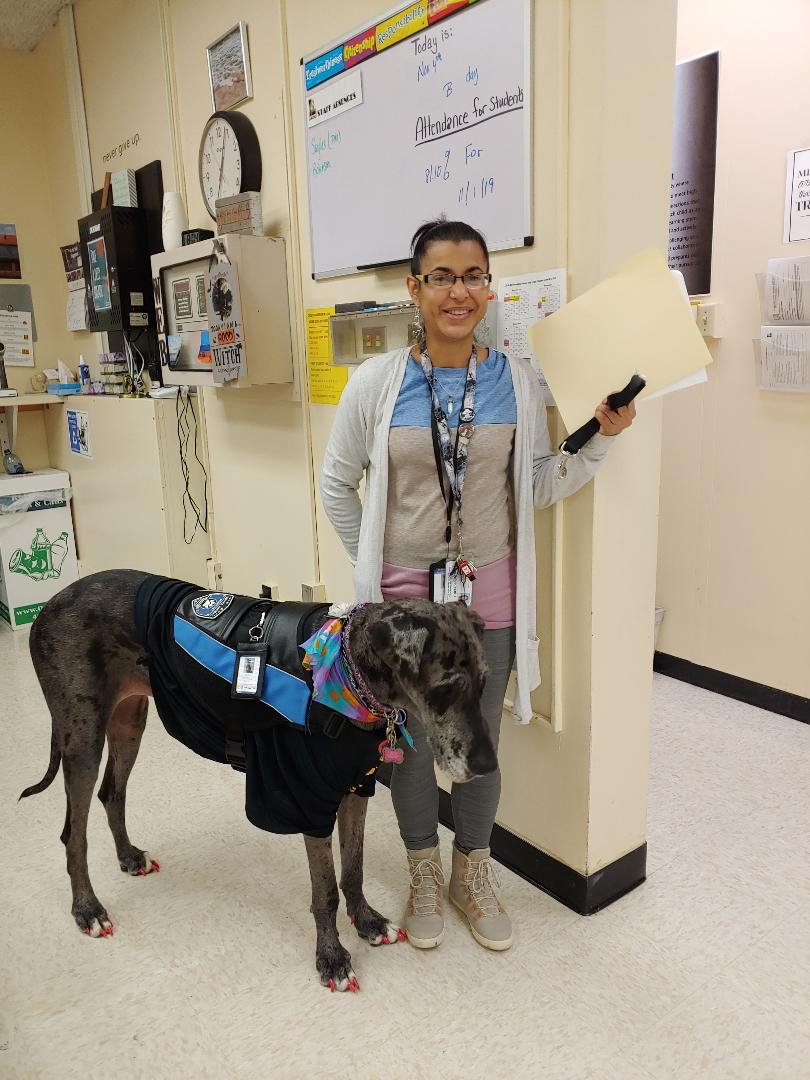 Several SCSD schools have partnered with community organizations to bring therapy dogs in for occasional visits with students. But at Lincoln Middle School, students now benefit from an animal's presence every day.
Khaleese's first day of school was November 1
st
. She isn't a therapy dog, but a specially trained service dog. She works alongside sixth grade Special Education teacher Rose Figueroa to assist with a medical condition.
When Khaleese first came to school, staff hosted grade level assemblies to introduce students to her, as well as to the concept of a service dog – what a service dog does, what training is required for them, and guidelines for what to do and not do when they see the dog in school.
Ms. Figueroa is new to the SCSD this year, moving from Puerto Rico. She has had Khaleese for more than four years – since Khaleese was a puppy – but was afraid at first to ask about having her in school.
"At first, when I talked to Principal White about it, I was so anxious," she explained. "I know it's not common here to bring a dog to school!"
But Ms. Figueroa noted the personal peace of mind having her service dog by her side provides. Khaleese warns her ten to fifteen minutes before she will have a medical episode, putting a paw on her or laying across her lap to prevent her from falling down. She can also alert the teacher to stressors that may trigger a medical episode.
"The kids are getting used to having her here," Ms. Figueroa said. "Their behavior has changed, too. They don't slam doors anymore. They are quieter – especially when Khaleese is sleeping. They like to work near her. The kids are even getting emotionally attached to her. One day I didn't have her in school with me, and everyone asked where she was."
"It's been calming for that class," Principal White noted. "Kids will ask if they can read to Khaleese or sit near her. It's become normal now… kids will just walk past her in the hallway. It's been a really good thing for our school."
"We don't want to upset her, which is why we are quiet and like to help her feel relaxed," sixth grade student Crystal Vazquez said of having Khaleese in her class. "She's not like a regular dog – we're only supposed to pet her when we have permission. But she comes to us to help calm us down when we get upset. One day, a kid was making fun of me, and Khaleese came over to stand with me."
To learn more about service dogs, how they are trained or how to engage with them,
please visit guidedog.org.