Building Men Summer Institutes Provide Motivation for Middle School Students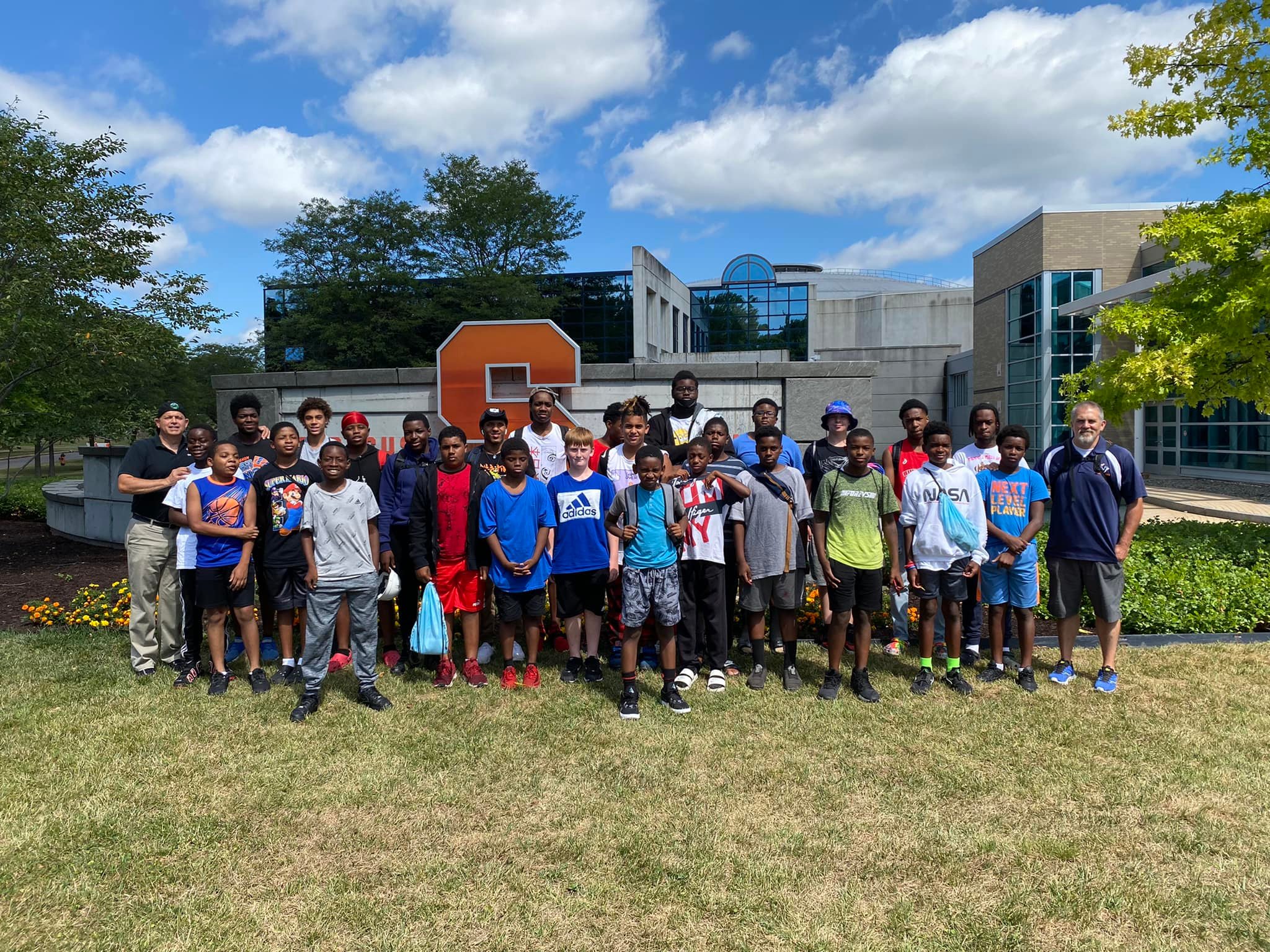 "Building Men has helped me throughout the years," incoming Nottingham freshman Shukri Hassan shared. "There have been times that I've been ready to give up, but Building Men brought me up and motivated me and helped me keep going."
Shukri and more than 60 young men in grades 6-8 enjoyed participating in The Building Men Program Summer Institute Sports Camp this summer. Students were invited to join a football camp at Roberts or soccer or basketball camps at Lincoln – all intended to help support them academically, socially, and emotionally.
For Shukri, this was his third summer participating in the program. He said the summer institute has helped him with his ELA and Math skills – but more importantly, has helped keep him motivated and connect him with new friends.
"I like the program because it helps me meet new people, make connections, and have fun," Shukri said. "I like the field trips, and it's nice to make friends from other schools! The Building Men Program has also made me more confident. When I started a few years ago, I was quiet and nervous. Now, I'm confident and I can speak out when I need to."
Through the program, students received academic tutoring, engaged in athletics, and enjoyed hearing from special guests. STEAM at Dr. King staff member Twan Gyder, SCSD graduate (and Team A.N.G.E.L. founder) Eddie Mitchell, The Good Life Foundation and others took time to speak with and motivate the young men. Students were invited to tour the Syracuse University Football facility, Onondaga Community College, and participate in a Bass Pro Shops fishing tournament. The program even offered a Family Dinner, catered by The Pizza Cutters and sponsored by Hillside Work-Scholarship Connection, Vision Credit Union LTD, and Rise Above Poverty – as well as a Family Bingo Night!
Incoming Nottingham freshman Matthew White said this was his third summer in the Building Men Summer Institute and said the speakers and special events are part of what makes it a unique summer opportunity.
"It's fun, but it also helps me focus on my morals and helps me become more of a leader," Matthew explained. "I like the guest speakers, because they're so passionate. They've talked about staying focused, knowing your purpose, and have helped us think about our morals and values. I've been through adversity, but Building Men has shown me that I can help people instead of getting frustrated. I can help my friends with math when they struggle, or I can help my more talkative friends stay focused when we're in the hallways. I feel like Building Men will help me a lot in the future because it makes me feel like I won't be persuaded by others."
To wrap up the summer, all Building Men Program summer students were invited to Nottingham for an Olympics competition featuring 8 areas of competition. After enjoying lunch together, they participated in small group discussions about reducing gun violence – thanks to the leadership of the Syracuse University football team, whose athletes helped lead the conversations.
Thank you to all of the community leaders and organizations that supported this year's Building Men Program Summer Institutes!