Students Develop Language Literacy through ENL Summer Programs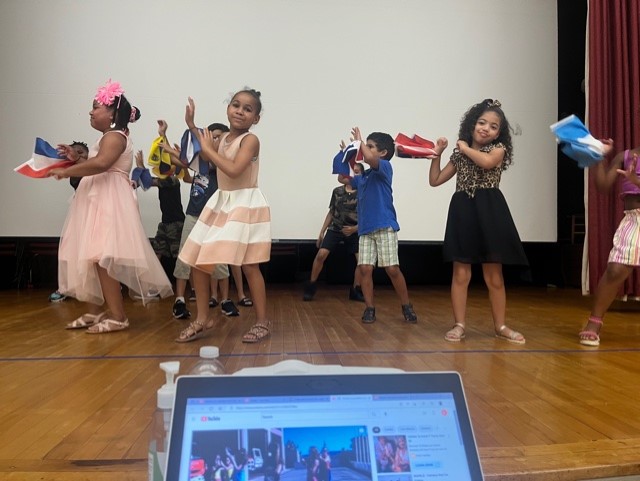 Dual language students from Delaware Primary School and Seymour Dual Language Academy had an opportunity this summer to develop their literacy in both English and Spanish in a new "Language Without Limits" program, developed by the SCSD Office of English as a New Language, World Language, and Bilingual Education.
Over the course of four weeks, about 75 students participated in weekly themed, project-based learning in both English and Spanish – also enjoying a weekly field trip and community celebration!
Students in kindergarten through 5
th
grade learned about Arts & Culture of Mexico, Song & Dance of Puerto Rico, Sports & Wellness of Cuba and the Dominican Republic, and Food & Drink of Spain. They painted self-portraits and wrote corresponding narratives to showcase at a Community Gallery Exhibit; they choreographed and performed a dance set to the music of their favorite LatinX performer; they used recipes to make healthy smoothies and practiced and played in a schoolwide baseball tournament! Students were led by one Spanish teacher and one English teacher, who alternated language and content daily.
As part of their studies, they were able to visit La Casita, attend a Syracuse Mets baseball game, and stopped by a local Farmers Market – where they picked up local ingredients to make their own tapas to share at a Community Lunch!
"Language Without Limits is an important summer program because we want students to remain committed to developing language and literacy in English and Spanish through the summer months in a way that is more project oriented and collaborative than the experience they have during the school year," ENL Instructional Coach Erica Daniels said. "We also took this as an opportunity to elevate the language and culture that is not English so students can explore the beauty and diversity in the LatinX/Hispanic cultural community. This curriculum allows for more student expression and helps students to be proud of their cultural and linguistic identities. When you are learning in two languages, you aren't just learning language. You are learning culture, too. This helps children see things from multiple perspectives, which is really valuable in terms of building cognition and critical thinking. But most importantly, kids are having fun learning!"
In addition to the new Language Without Limits dual language enrichment, students again had the opportunity to enroll in a Steps to the Seal program at three summer school site locations this year. Through Steps to the Seal, students are grouped by their heritage language and work to develop their native language through the completion of a multimedia project.
This year, students were able to further develop their Arabic, Somali, Swahili, Spanish, and Karen at Dr. Weeks; Somali at STEAM @ Dr. King; and Arabic, Swahili, Karen, and Nepali at Franklin.
In previous years, Steps to the Seal students completed multimedia personal memoirs that included heritage language writing, illustrations, maps, and photographs. This year, they were invited to engage in a new curriculum called 'My Multicultural Kitchen,' which encouraged students to develop cookbooks with recipes that are significant to their families and their cultures!
Thank you to the Office of ENL, World Language, and Bilingual Education for offering these enrichment activities to help our ENL students celebrate their #SCSDDiversity!