Nottingham College & Career Center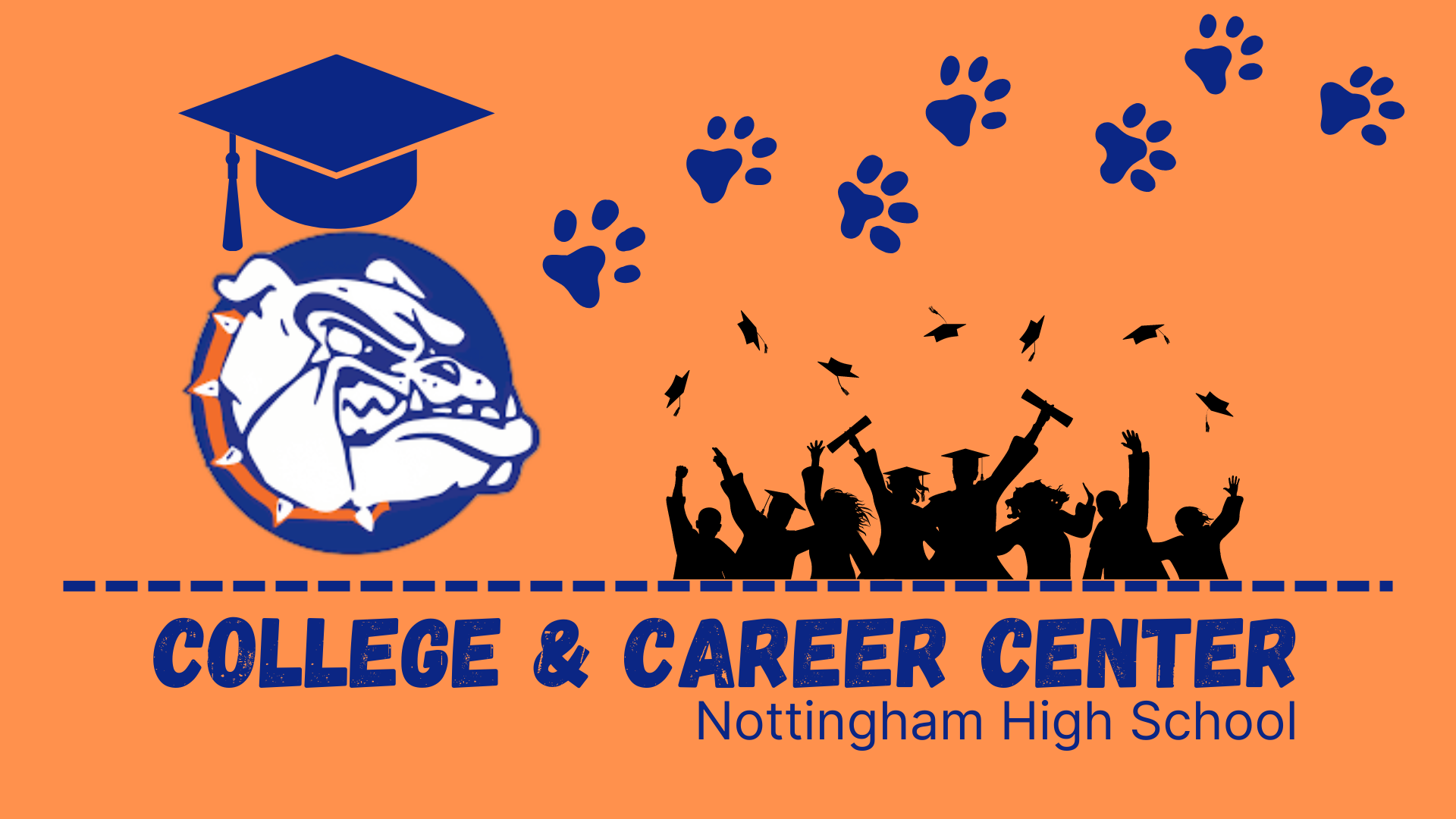 | | |
| --- | --- |
| Important Career Links | Military Branches |
| | |
Upcoming Events
Scholarships
Attention Seniors! There are plenty of scholarships out to help you pay for college!!


After School Touring
Teachers are available after school for touring Mondays, Wednesdays, and Fridays from 2:30 to 3:10.

Please connect with your teachers for extra academic support!
Resources for Students
FAFSA

Planning on going to college in the Fall of 2023? Need help with your financial aid form? Come to one of the district's FAFSA nights:
October 12, 2022 PSLA at Fowler 4 to 7 PM

October 18, 2022 Nottingham 4 to 7 PM

October 19, 2022 ITC 4 to 7 PM

November 9, 2022 Henninger 4 to 7 PM

November 16, 2022 Corcoran 4 to 7 PM

Say Yes to Education

Say Yes Syracuse seeks to develop the full potential of every child, particularly students from low-income and other backgrounds historically underrepresented on the nation's college and university campuses. In the long run, Say Yes believes its efforts will have a positive impact on the local economy by arming the program's students with a post-secondary degree or certificate — and the qualifications to excel in a range of occupations. Say Yes provides comprehensive support to Syracuse City School District students to eliminate predictable barriers to academic achievement. Those efforts culminate with access to financial aid (FAFSA/TAP) assistance for college. Syracuse City School District graduates who meet residency and other requirements, and who have been admitted to an in-state public college or university, are eligible to receive "last dollar" tuition scholarships (after Pell Grants and state aid) to that institution, from the local Say Yes Scholarship Fund, regardless of annual family income. In addition, depending on family income, Say Yes Syracuse Scholars may be eligible to receive scholarships to one of our more than 100 college and university partners.

Common App Step-by-Step Guide

The Common Application (more commonly known as the Common App) is an undergraduate college admission application that applicants may use to apply to over 1,000 member colleges and universities in all 50 states and the District of Columbia, as well as in Canada, China, Japan, and many European countries.Member colleges and universities that accept the Common App are made up of over 250 public universities, 12 historically black colleges and universities, and over 400 institutions that do not require an application fee. It is managed by the staff of a not-for-profit membership association (The Common Application, Inc.) and governed by a 18-member volunteer Board of Directors drawn from the ranks of college admission deans and secondary school college counselors. Its mission is to promote access, equity, and integrity in the college admission process, which includes subjective factors gleaned from essays and recommendations alongside more objective criteria such as class rank.

New York Scholarship Directory

The purpose of this detailed listing is to help you plan your scholarship search throughout the year. Please find information below about scholarships for New York State students. Some of the deadlines may be from prior years. Scholarship deadlines are cyclical, so even if a deadline has passed, the website will likely be updated for the 2022-23 cycle. Be sure to reach out to the sponsor or check sponsor websites for the most recent details.

On Point for College

On Point for College is a nationally-recognized college attainment program. It was founded in 1999 to help first-generation students gain access to college. In the years since, it has expanded its offerings to include college success (completion) support, career planning and placement support, and most recently, support with non-college post-secondary credential attainment. It has grown from serving only Syracuse, New York, to serving nearly all of Central New York, including Cayuga, Herkimer, Madison, Oneida, Onondaga, and Oswego Counties. On Point also maintains active partnerships with two New York City-based agencies, Goddard-Riverside Community Center and New Settlement Apartments, which allows it to better support students attending college in the downstate region. On Point services are 100% free and available to students of all ages, backgrounds, and educational levels. On Point specializes in helping high school students and recent graduates, as well as those who have been away from school for a while or who have earned GED or HSE credentials. On Point also has extensive experience working with populations who may face additional challenges including, but not limited to, refugee or immigrant status, dependent children, experience with the foster care system, a history of court involvement, and housing insecurity.