High School Students Build Dialogue Facilitation Skills in Seeds of Peace Training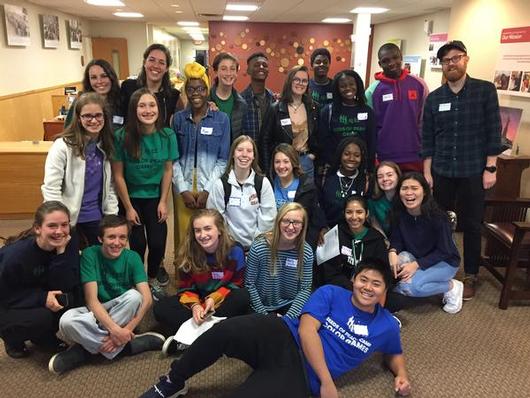 Syracuse Seeds of Peace are high school students who work to develop relationships between members of their school communities. Twenty-one Syracuse Seeds representing all five SCSD high schools spent a recent Saturday engaged in dialogue facilitator training with visiting Seeds of Peace U.S. Program Director Andrew Koskinen and U.S./U.K. Program Manager Eliza O'Neil. The visitors led enthusiastic students through activities, simulations, and dialogue to help them develop skills in facilitating discussions across lines of difference and on difficult topics.
While here, the NYC-based Seeds of Peace Staff took full advantage of the opportunity to listen to and learn from Syracuse Seeds. They were eager to hear about how Syracuse Seeds are working in their schools, their actions in the community, and what students need from the adult allies who support them.
Syracuse Seeds will continue to practice their developing facilitation skills in weekly student led meetings and special activities that welcome fellow students to develop relationships that strengthen their school communities throughout the year with the support of their adult allies. In addition, Seeds will have opportunities to plan and facilitate programming for students and community members across the city.
"I'm leaving facilitation today feeling amazing and really excited for what's to come for our group," one Nottingham Seed said.
"The Seeds of Peace facilitator training was an amazing experience," Nottingham Seed Anisa Salahou said. "I was able to connect with other Syracuse Seeds who went to camp with me and as well as new members. It was very interesting to see the inside and outs of facilitating, especially being a two year camper and going through the dialogue intensive program. I hope to use what I learned to better my community and seeds program at my school!"
For more information about Seeds of Peace, students are encouraged to talk to their high school counselor or reach out to Syracuse Seeds of Peace Coordinator Kofi Addai at
kaddai@ifwcny.org
.
Thank you to Syracuse Seeds of Peace Educator Lisa Neville for sharing this good news!