Delaware Students Gain Self Esteem and Sisterhood through Building HER Program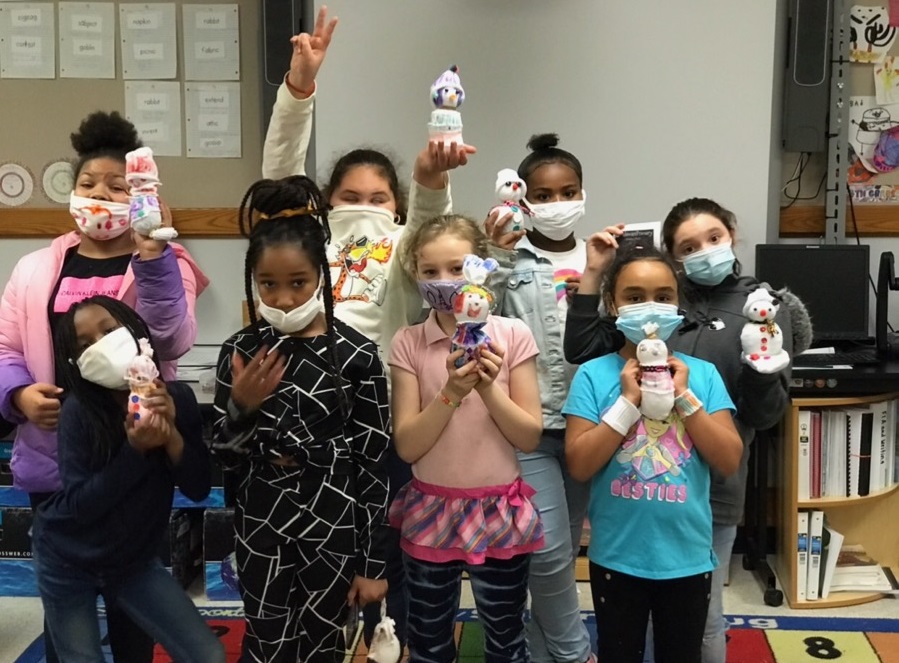 "The girls in our district need something."
A few years ago, Delaware Primary School Principal Moshiena Faircloth had this thought as she heard about the Building Men Program's success. A short time later, she had created a not-for-profit, Building HER, not affiliated with the Syracuse City School District, which serves hundreds of young women in fourth through eleventh grade across more than nine City schools, as well as surrounding districts.
The group meets every Wednesday at St. Lucy's Church, to promote leadership and stewardship. Bimonthly, they conduct a community service project – focusing on an area in the community that the girls would like to serve. Recently, they have donated blessing bags (full of spa treatment items) to Vera House, as well as to an animal adoption shelter (full of pet food, toys and supplies).
The girls will soon enjoy a 'glam night,' where they will connect over donated nail polish and make up, and they will enjoy a visit to a Selfie Museum at Destiny USA. The idea of these activities is to help the young women – regardless of their interests – feel accepted and supported.
"What I've noticed is that girls need an outlet, someone they can talk to," Ms. Faircloth explained. "A lot of girls in the inner city need exposure to things that other girls may have the financial capability to do. The idea of this group is to give them the exposure they need to help them figure out how to be their best self. We want to help them discover all the wonderful things they can do."
To that end, Principal Faircloth decided that her students at Delaware Primary should have the option to attend a separate, school-sanctioned Building HER program, which would have the same goals but would meet weekly as part of the school's after-school program.
Currently open to fourth grade girls, the group follows a curriculum that is focused on positivity and leadership. They touch on new topics each month, from health and wellness, personal hygiene, and life skills to social-emotional health and more. Everyday, the girls are encouraged to read – and write their own – positive affirmations. When they meet each week, they are encouraged to work together to talk through issues, problem solve, and build self-esteem. They engage in related craft projects, ranging from creating their own journals to making dream catchers and more.
"They've done vision boards, they've listed the things they love the most about themselves, they've built their confidence and learned to be more confident when it comes to public speaking," staff advisor Brittney Evans explained. "The girls absolutely love it!"
"My favorite thing about the Building HER program is the friendship," Anna'Leah Tarbell said. "We've learned about being nice and sweet and respectful and it's helped me make friends. I've also learned to help my anger by taking a deep breath and calming down. Making a vision board has been my favorite part – I showed how when I grow up, I want to be an astronaut so I can see the whole entire world!"
"I wanted to be in Building HER so I could make friends and learn how I can be helpful," Karleigh Frank said. "Everyday, we read a positive saying and then we write in our journals. Then we share what we wrote with each other. It's helped us become friends. I've learned that I can control my temper by being thankful and doing something nice instead of saying something mean. Other schools should have groups like this because it would help a lot of people!"
Any 4
th
– 11
th
grade girl interested in participating in the public Building HER program – or anyone in serving as a volunteer or mentor for the girls in the program –
can find the group on Facebook @BuildingHERInc
. Meeting dates and times are posted there, and any girl is welcome to attend a meeting.
"I wanted this group to be a bridge between different sides of town," Principal Faircloth shared. "You hear sometimes in schools, 'I live on this side of town.' We don't want that separation. In this group, we're all a community. These girls, no matter where they go to school, are Building HER sisters. Parents tell us, 'we've been waiting to have something like this for our girls.' Anyone is welcome!"