Huntington Students Participate in Women's History Month 'Women's Empowerment Draft'
Published on 3/7/22 Tagged under: Huntington K-8 School
---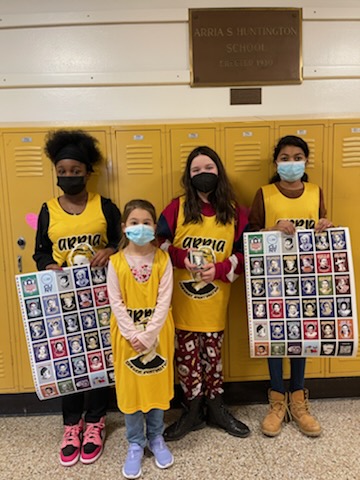 Students at Huntington Pre-K-8 School are joining other students across the state in one of the nation's largest Women's History Month collaborations.

The program, the 'Women's Empowerment Draft' (W.E. Draft) uses a pro-sports theme to build enthusiasm for historic icons, specifically those with New York State schools named after them. Of the 4,500 public and charter schools in New York State, approximately 900 are named for men and 180 for women. The 31 names featured this year include well-known heroes such as Harriet Tubman, Rosa Parks, and Eleanor Roosevelt as well as lesser-known trailblazers.
Each participating school is sponsored by a SUNY, CUNY, or private college, which provides online educational content with which schools can engage. Huntington School, named for Arria S. Huntington, is participating in the W.E. Draft thanks to the sponsorship of SUNY Polytechnic Institute.

The W.E. Draft, a month-long program, features an actual draft ceremony—prerecorded and edited into a quick-paced, educational highlight reel—with plenty of colorful swag, including basketball jerseys and trading cards adorned with portraits of the schools' namesakes. Each day in March, a different school and partnering college is challenged to pay tribute on social media with the most creative post receiving a $500 art supply prize for the contributing school.

Huntington students Logan Licamele, Lillyana O'Neal, Malia Adams, Ava George, Reyam Ahmed, Journee Sullivan, Justyce-Joy Doyle, and Faith Washington will join the draft ceremony on March 7th to honor Arria S. Huntington. Arria S. Huntington was the first woman elected to public office in Syracuse, where she served as School Commissioner from the city from 1897-1903. She founded the shelter for Homeless Women and Girls, and the Working Girls Club.

In addition to participating in the W.E. Draft, the students selected to represent Huntington are working on a mural to represent the pride of Arria S. Huntington.

The Women's Empowerment Draft (W.E. Draft), a program of Alfred University's Art Force 5, was founded in 2020 to celebrate the centennial of the Nineteenth Amendment. Through a SUNY grant, more than thirty colleges sponsored enthusiastic tributes and the NFL Network produced a segment highlighting the program. To learn more about the W.E. Draft, visit www.artforce5.com/wedraft or follow #WeDraft2022 throughout the month of March.