Ed Smith Student to Compete at Scripps National Spelling Bee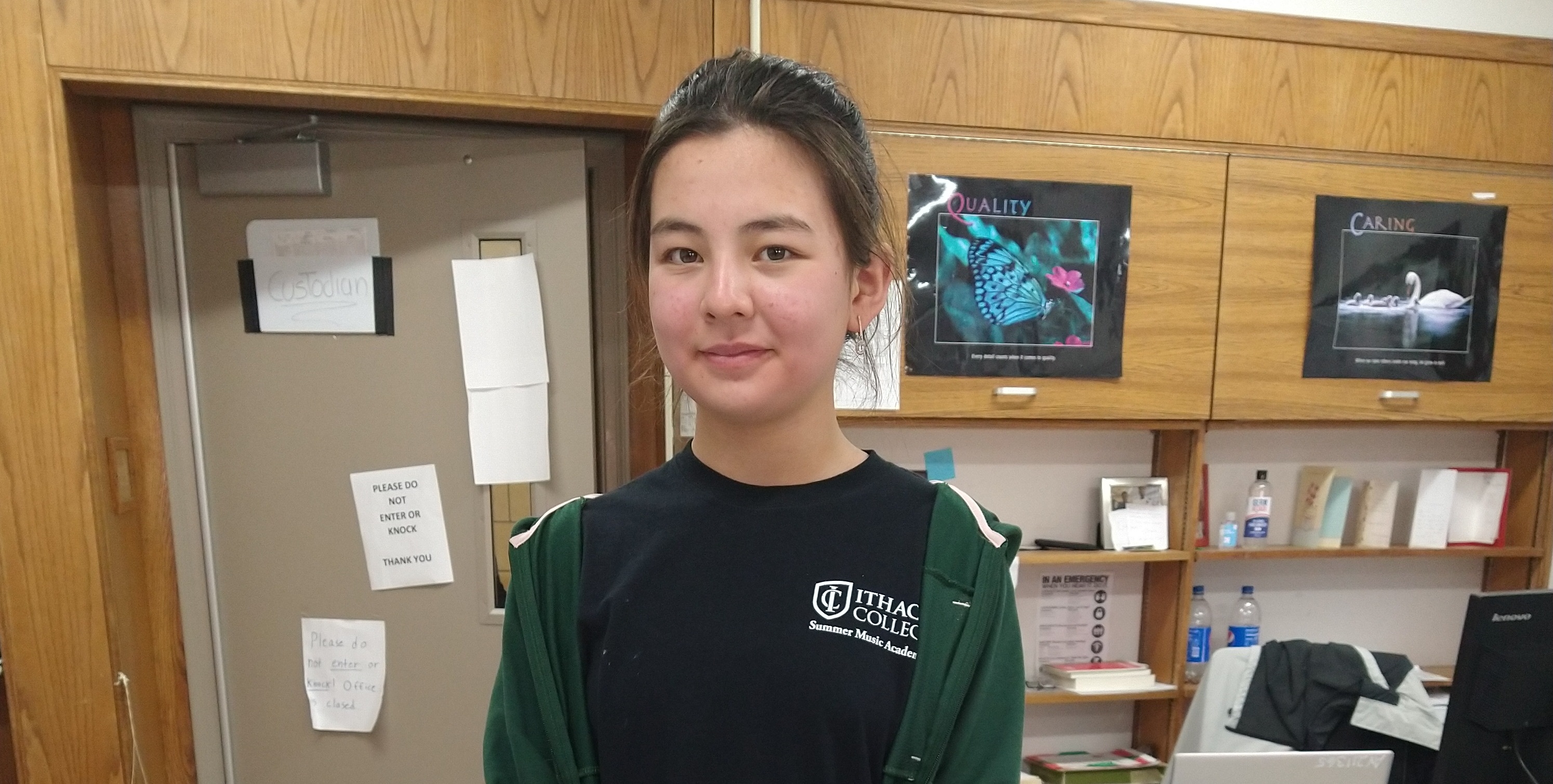 Perorate. P-E-R-O-R-A-T-E.
It's a verb meaning to speak at length.
And for Ed Smith 8
th
grader Nagi Aitbayeva, it's the word that won her the local Syracuse.com/The Post-Standard Spelling Bee, advancing her to represent Central New York at the Scripps National Spelling Bee in Maryland this spring!
"I already knew it," Nagi explained of perorate, her spelling challenge. "It wasn't the most challenging word I've ever come across. The more challenging words, I usually come across while I'm studying."
Nagi has spent a great deal of time studying her spelling. When she was in 6
th
grade, she first entered her school's spelling bee, ultimately placing 4
th
.
"In 6
th
grade, I didn't really know how the process went," Nagi said. "I was given a list of words and I tried to memorize them. It wasn't the ideal method when it comes to higher level competition! I've been striving to do better ever since."
The next year, Nagi studied harder and won 1
st
place in her school spelling bee, going on to place 14
th
in the regional competition. It was after that experience that she started digging deeper into the words she was learning.
"In higher level competition, it's all about trying to learn the word origin and decipher the word… pick it apart. As you advance in the competition, words aren't limited to a 4,000 word list – they grow to include any word in the dictionary!"
As she immersed herself in word origins and roots, she also turned to a website, SpellPundit, a resource founded by two former National Spelling Bee finalists. She began studying the definition of words and seeing the root, origin, and definition as clues to help her determine the spelling, even of words she may not be familiar with.
"You always hope you don't get a word that you didn't study," Nagi shared. "Coming into a spelling bee, you should be well prepared. You have to have good composure. When you get a word you didn't study for, you just have to piece together bits of what you already know. This is why the pronouncers give you the definition, multiple pronunciations, word origin and what part of speech it is. Even if you get a word you're not prepared for, you can still have a good chance of spelling it right if you use the clues."
To keep her mind fresh, Nagi said she mentally spells words as other spellers are taking their turn at competing. At the last competition, she got all the words right in her head – except turpentine, she noted ('I spelled it t-e-r instead of t-u-r,' she lamented).
Nagi's hard work has paid off beyond spelling competitions, as well – her spelling skills and expanded vocabulary have carried over to help her in school and beyond.
"Ever since learning more definitions, I've expanded my knowledge of my words and etymology," Nagi said. "It has helped me in school. Sometimes in ELA, when we're learning about prefixes or suffixes, those skills help; or in science, because a lot of the scientific terms come from Latin and Greek words, sometimes I can decipher unknown words or ideas. Outside of school, I definitely see a difference as I've expanded my vocabulary."
Teachers have noticed the growth as well. Terri Heise, an English as a New Language teacher at Ed Smith, first met Nagi in January 2018 when she entered 4
th
grade. Nagi's family had just moved from Kazakhstan, and she knew very little English.
"She was very quiet and shy but you could tell that she was listening and learning constantly," Ms. Heise recalled. Nagi took the NYSESLAT and tested at an 'expanding' level. In just four months, she had learned enough English to explain her thoughts orally, read complex text and write multi-paragraph responses about what she read. The following year, she tested proficient in English!
"Nagi is an amazing young woman," Ms. Heise shared. "Her thirst for knowledge is insatiable. Throughout the years, Nagi has gained confidence in her skills academically. She quickly rose to the top of the class and became a role model for other students. She was recommended to take high school classes as an 8th grader! I have always been so proud of Nagi's hard work and determination. When I read in the newspaper that she had won the Post Standard Spelling Bee, I was elated for her and her family. When Nagi participates in the National Spelling Bee, I will be crossing my fingers and sending her virtual hugs of support! I know she will make Ed Smith and Syracuse proud!"
Ultimately, Nagi said her hobby is a source of personal pride – but she does hope to make her community proud in her first and last chance to participate in the National Spelling Bee.
"I'm very honored and excited to be representing CNY at the Scripps National Spelling Bee," she said. "There's a lot of work and preparation going into it – it's a lot. But I'm trying to study as much as I can, and I'm excited! Excited and nervous."
We're so proud of Nagi for her hard work, preparation, and dedication!