Ed Smith School Presents Its 2022 Spring Musical: Shrek, Jr.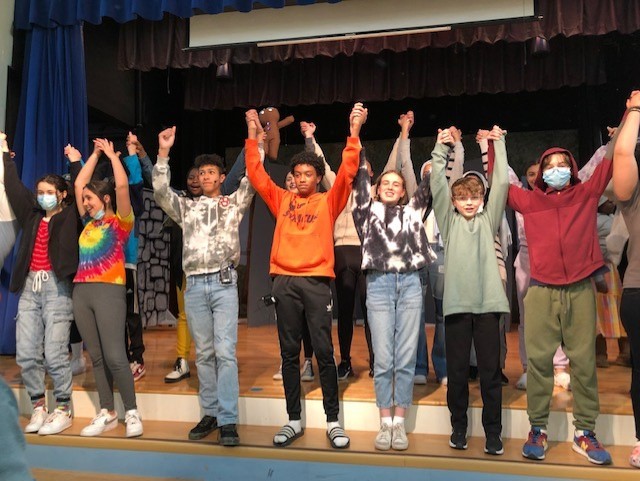 It's a "big bright beautiful world" as everyone's favorite ogre, Shrek, leads a cast of fairytale misfits on an adventure to rescue a princess and find true acceptance. Part romance and part twisted fairy tale, Shrek Jr. is an irreverently fun show with a powerful message for the whole family.
Don't miss Shrek, Jr., which will be presented by Ed Smith students on Thursday, May 12
th
and Friday, May 13
th
at 7 pm. Admission is free!
We hope to see you at the show to support #SCSDArts!
Cast
Pili Batuli – Storyteller 5
Jaden Bowen Henry - Shrek
Gloria Colegrove - Dance Troupe
Vixx Derby - Big Bad Wolf
Richie Davis – Captain of the Guard
Veronica Ebner - Puss in Boots/Bishop
Raine Fierke - Pig 1 of the 3 Little Pigs
Ruby Gozan-Keck – Storyteller 1
Luca Grifasi - Princess Fiona
Kalin Hopkins - Dance Troupe
Amina Jeilani-Mama Bear
Malaysia Jones – Knight 4/Cool Mouse
Alex Kelly - Peter Pan
Akira Keech - Dance Troupe
Mikio Keech - Baby Bear/Pied Piper
Matilda Kerney - Teen Fiona/ Story Teller 2
Si'Mone Kirby - Mama Orge/Knight 3/Cool Mouse
Alena Knapp - Pinocchio
Isabelle Larsen - Dance Troupe
Richaine Maloba - Dragon/Cool Mouse
Lucian Manwaring – Donkey
Esther Mariam – Storyteller 4
Muhawe Mugisha - Dance Troupe
Molly Myers - Pig 2 of the 3 Little Pigs
Ella Myers - Dance Troupe
Jewel Pierce - Knight 1/Cool Mouse
Ila Robinson - Dance Troupe
Luke Scanlon - Lord Farquaad
Sophie Scanlon - Princess Fiona
Aksa Sikuzani -Dance Troupe
Reyhaneh Soleimani - Papa Bear/Dwarf
Bre'Ona Stephens – Ugly Duckling
Maria Triana - Gingy
Gavin Wilson - Pig 3 of the 3 Little Pigs
Jai'neya Wright - Wicked Witch
Alicia Zinkovitch - Knight 2/Cool Mouse
Addie Zhe-Heimerman - Young Fiona/Storyteller 3
Fred Zhe-Heimerman – Little Shrek
Max Zuckerbraun – Papa Ogre
Crew
Charlie Carnegie
Glady Craddock
Keani Diggs
Franklin Ebner
Lukiyo Goeman
Samantha Gordin
Daniel Harris
Jon Asia Huntley
Skyy Jones
Justyce Moore
Lark Murphy
Rowan Murphy-Weissman
Jamaya Robinson
Carter Rodak
Zero Stroud
Helen Zhe-Heimerman