Lincoln Middle School Presents Its 2022 Spring Musical: The Lion King
Published on 5/12/22 Tagged under: District News Lincoln Middle School
---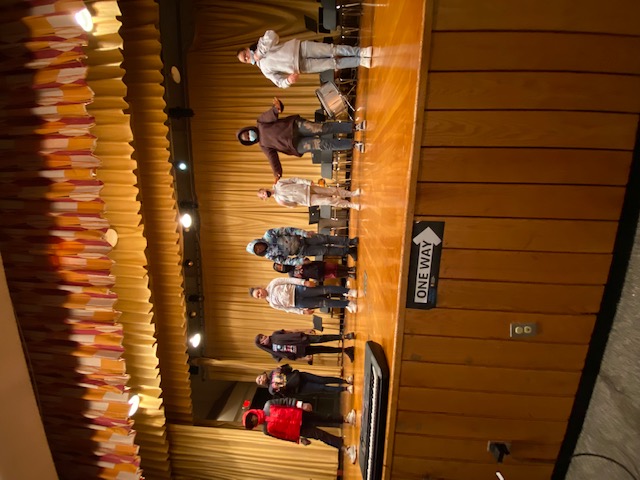 Based on the 1994 Disney animated feature film of the same name and William Shakespeare's Hamlet, The Lion King is the story of Simba, an adventurous and energetic lion cub who is next in line to be king of the Pride Lands, a thriving and beautiful region in the African savanna. When Simba's father Mufasa is killed by his uncle Scar, though, Simba is led to believe that his father's death is his fault, and he is encouraged to run away forever. Scar seizes power and with his already unstable mind deteriorating, the Pride Lands experiences a darkness and desolation from which only Simba can save the animals of the kingdom. Featuring classic songs from the film such as "Circle of Life," "I Just Can't Wait to Be King," "Hakuna Matata," and "Can You Feel the Love Tonight," The Lion King is a story and a spectacle about identity, family, and responsibility that is enjoyed worldwide by people of all ages.

Don't miss The Lion King, which will be presented by Lincoln students on Friday, May 13th at 7 PM and Saturday, May 14th at 2 PM. Tickets are available for purchase at the door for $5 each or five for $20.

"Putting this show together has been a real journey!" Library Media Specialist Cait Cole shared. "Our school was not budgeted for a theatrical production… there hasn't been a musical put on here at Lincoln in many years, as far as we know. Luckily, we had some great community partners who donated funds, and we were fortunate to partner with Redhouse who has helped support us and bring the musical to life. We have created most of the sets and costumes ourselves. Our kids have been working hard for the past 5 months on this show, and we're really excited to share it with the community!"

We hope to see you at the show to support #SCSDArts!

Cast

Rafiki - Rabia Isimbi
Scar - Rehema Ramazani
Mufasa - Isabella Rosado
Zazu - Claire Delaney
Young Simba - Kaskile Ngalula
Young Nala/Nala - Samiara Jean
Simba - Jason McAuley
Sarabi (Simba's mom) - Lara Mansour
Sarafina (Nala's mom) - Ledia Shushu
Timon - Hibak Ali
Pumbaa - Kiza Yenga
Shenzi (Hyena) - Brother Paw
Banzai (Hyena) - Kirenga Joiyeuse
Ed (Hyena) - Ongwa Ngalula
Ensemble - Amarris Campbell

The show has been put together collaboratively by the following adults:

Rebecca True - Lincoln Middle School Music Teacher
Veronica Feliz - Lincoln Middle School Art Teacher
Sydney Sargent - Lincoln Middle School Nurse
Cait Cole - Lincoln Middle School Library Media Specialist