Corcoran CTE Program Helps Lead SCSD Graduates Back Home - as Employees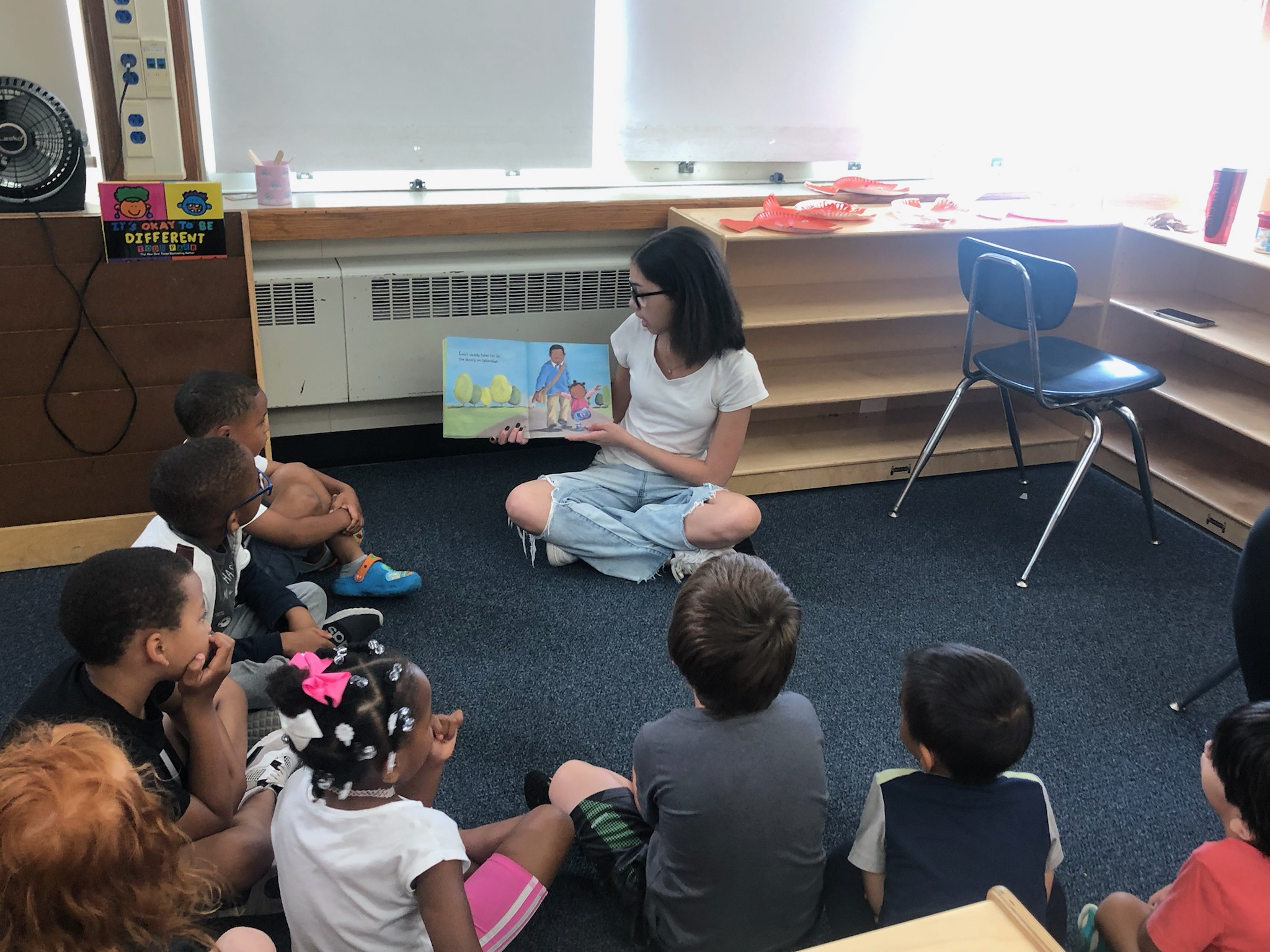 When Aariana Shortell and Isabella Pascale enter Roberts Pre-K-8 School as Teaching Assistants, they are excited to jump right in and help with whatever students are working on.
They've helped with construction paper turkeys, assisting with gluing and writing. They've helped small groups of students make posters that identify colors. They've read to young students. They've taught math and writing skills. They've even assisted teachers by decorating bulletin boards.
Ari, a Corcoran junior, and Isabella, a Corcoran senior, are both studying in their high school's Urban Teacher Prep program – a Career and Technical Education (CTE) pathway intended to help students prepare for a career in urban education.
Both students have had a lifelong interest in the field of education, and their experience in the Urban Teacher Prep program has offered them the opportunity to learn about lesson planning, classroom management, brain development, effective teaching strategies and more. The program has even enabled them to shadow teaching staff at neighboring Roberts Pre-K-8 School, where they are able to observe and try out the things they learn about in their own high school classrooms.
"I've been fortunate to build really good connections with my own teachers," Ari shared. "That inspired me to want to be one myself, so I can build connections and relationships with students of my own. My favorite part of the Urban Teacher Prep program has been working at Roberts, because I enjoy working with little kids. A lot of teachers – not mine – make assumptions about their students. If a student doesn't do their work, they may have something going on at home. Instead of assuming things about students, I try to talk to them. Learning about what students are going through and the challenges they face has opened my eyes and made me realize the importance of being more open in helping others. I think students will really benefit from having a teacher who has been through some of the same things, who has grown up in the same area. I'm looking forward to getting to know more teachers so I can feel more confident in myself as a teacher."
"I've always had an interest in teaching… since I was really little," Isabella added. "When I was little and I was bored, I'd pretend I was a teacher, teaching my own class. I think I want to have more of a guidance counselor or librarian role, but I'd really like to work in the SCSD – in a school I've attended myself. I feel like growing up in the same neighborhood or going to the same ice cream place… those things allow you to build trust and have a connection that can help your students become better students overall. Being at Roberts and feeling like a real teacher has helped motivate me to come to school, because it gives me something to look forward to. Most students come to school and sit in a classroom, or the cafeteria or the gym. I get to be in an entirely different setting, getting a real, hands-on experience. It's been awesome!"
Carrie O'Connor, a former English teacher who now leads the Urban Teacher Preparation program, said the immersive, hands-on experience plays into her ultimate goal for her students: to inspire them to become teachers.
"Of course, I hope they'll all end up teaching in a classroom!" Ms. O'Connor shared. "But we spend a lot of time learning about diversity – not just with race and ethnicity, but diversity in learning styles and abilities. Most of our students spend 12 years of schooling in classrooms with other people, but they tend to learn very little about how their lives are different and how we impact each other. Ultimately, through our program, we're trying to build good humans and help our students learn how they can be good to each other and how they can create a strong sense of community, no matter what they end up doing."
That attitude is what kept David Ortiz in the Urban Teacher Prep program. As he entered Corcoran as a freshman, his parents wanted him to enroll in the school's International Baccalaureate program – but David wasn't interested. Instead, he enrolled in the Urban Teacher Prep program. He liked the teacher at the time, he recalled. Ms. O'Connor took over the program in his sophomore year, and at some point that year, he decided: 'I may as well really try it out and see what it's like to be a Teaching Assistant!'
Now, less than three years later, Mr. Ortiz has completed the program, graduated from Corcoran, and is working full-time as a Pre-K Teaching Assistant at Delaware Primary School!
"My senior year, I spent a lot of time at Roberts, working with second graders," Mr. Ortiz recalled. "It was really nice. I saw how excited the younger kids were about learning, and that's when I realized that teaching is something I really want to do."
Thanks to his high school CTE training, Mr. Ortiz said the job itself hasn't been the biggest challenge – the mental adjustment has been.
"Ms. O'Connor prepared us really well about so many things," he said. "I knew what to expect because I had that experience. The weird thing has been transitioning from student to staff member. Sometimes, I'll walk through the halls and I'll call another adult by Mr. or Ms. I have to remind myself: I'm a teacher now! It's pretty fun being on the other side of it. I know a little bit about what the kids are going through. Living on the west side, I understand it. I understand that it's not easy getting your younger siblings or cousins ready for school – it's stressful. So if a kid shows up and they're angry and ready to fight, I understand, and I can help them with it."
Mr. Ortiz said he definitely plans to pursue a career in teaching – his hope now is to experience working with different grade levels until he finds the right fit for him as an educator.
"It's awesome that David has chosen to pursue teaching here in the SCSD, especially with him being a young man," Ms. O'Connor expressed. "We have such few male teachers – especially at the elementary level. To have diversity and representation in our classrooms is huge. David is a shining example of our program: it does work! Join us – give teaching a try. I appreciate him sharing that he had no interest in teaching to begin with. Our high school kids are thinking: I already spend all my time in school… why would I want to work in one? But to connect with younger kids at their age can open their eyes and help them realize: they need teachers like me. When students know they come from exactly where you come from, that you have experienced the same things… that's huge. That's so important to transforming classrooms."
Students who complete the Urban Teacher Prep program also have a leg up in their college credits. In their senior year, students are invited to take two college-level English classes on the Onondaga Community College campus. Seniors in the program also work with staff on completing the requirements for a full-time TA position with the District, including fingerprinting, DASA, mandated reporter and child abuse prevention trainings and more. They work on preparing resumes, working through SCSD job applications, and creating their NYS TEACH accounts. Upon graduation, students have the opportunity to enter college or, as Ms. Ortiz did, try to get hired right away – allowing them to enter the NYS retirement system at just 18 years old!
In addition, students who enter the SCSD as Teaching Assistants following the completion of the Urban Teacher Prep program, like Mr. Ortiz, may enter the Career Ladder program. Through the Career Ladder program, employees are encouraged to pursue higher education opportunities that will help lead them to advancement within the SCSD, with the District paying for a certain number of credit hours per year.
We look forward to seeing more of our Corcoran students returning to the SCSD as employees in the coming years! To learn more about the Urban Teacher Prep program and all of the CTE programs offered in the Syracuse City School District, visit
https://www.syracusecityschools.com/CTE
.