SCSD K-8 Students Enjoy Reading Initiative One School, One Book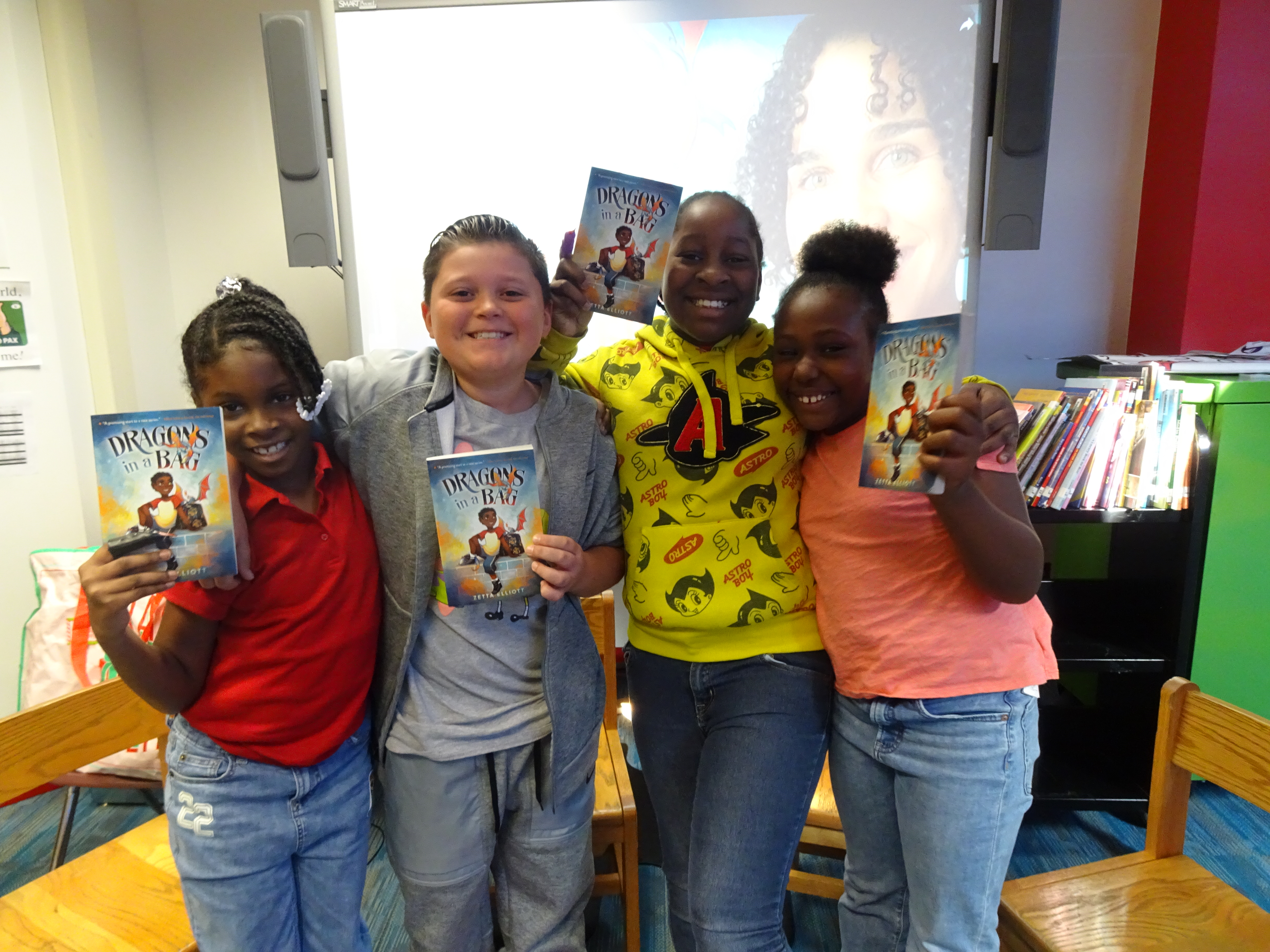 All SCSD elementary and K-8 schools have the opportunity to engage in a family reading event this year, thanks to a special grant.
The "One School, One Book" initiative provided each student with a book, selected by their school's planning team. Over the course of a few weeks, students were offered engaging activities and incentives to encourage them – and their families – to read!
Thanks to a grant from the Cabrini Foundation, secured by Read To Them, an organization dedicated to creating a culture of literacy in every home, each school was also provided with money to use for book nights, project incentives, supplies, and more.
At Van Duyn, students read the book "Dragons in a Bag." To kick off their schoolwide celebration, as students were provided with the book, they were asked to sign a special pledge, committing to reading 100 minutes in the first week of October. Students who held up their end of the bargain were offered a free ticket to the SU vs. North Carolina State football game!
Students were also offered creative ways to share their thoughts about the book – including a special 'Wonder Wall' in the school, where they could draw or write what they thought the upcoming part of the book would be about – intended to help keep them excited about their reading.
"This book is amazing," fourth grade student Hayleigh Coker shared. "It has a lot of detail. I like reading! I wouldn't have picked this book, but it has a lot of things in it that I like. I like that the kid got to know his grandmother, because not all kids get to meet their grandparents – so it's relatable."
"It's pretty good so far," classmate Benjamin Kolbasook added. "There are lots of details. My dad has been helping me read it, and that helps me like the book better!"
"When I was little, my sister read to me a lot, so now I love to read, too," Ichariah Franklin said. "I saw the picture on the cover and I've been wondering if there will be a dragon in it. I'll have to keep reading to find out! This book inspired me because there's magic in it."
Van Duyn students were each provided with a home journal as well, where they could draw a picture and write a simple summary of chapters as they read them. Students who completed their journals by the end of October were invited to see Jeff the Magic Man, a magic show, as a reward!
"We were super excited about this program at Van Duyn, and it was so exciting to see it come to life," Van Duyn IB Programme Coordinator Chaz-Lit C. Droguett-Doyle said.
At Frazer, students in kindergarten through 2
nd
grade read "A Boy Called Bat" by Elana Arnold; students in grades 3-5 read "Drita My Homegirl" by Jenny Lombard; and students in grades 6-8 read "Restart" by Gordan Korman. To kick off the school's reading initiative, students went home with a folder, calendar to pace reading, a bookmark, and a welcome letter. Then, they were presented with a weekly trivia question on the school announcements, with students receiving prizes for submitting correct answers. As a culminating event, all students and families who participated and completed their calendars for reading the entire book were invited to a community breakfast!
"The book I'm reading is about a girl who moves from Africa to America," Frazer fifth grade student Ken Kha explained. "I can relate, because I moved to America from Asia – my dad was already here, just like [the book's main character's] dad was. I like to read the book out loud at home – reading is fun to help pass the time and it also helps me in school!"
"The book is pretty good," 6
th
grader Jamar Richey added. "I like to read, but I usually read picture books, so this is different. But I've learned that now I can picture in my head what I'm reading instead of looking at pictures!"
Additional schools will be hosting One School, One Book initiatives through the rest of the school year to help encourage students to build their reading endurance – and a love of books. Read To Them assisted schools by handling the ordering and delivery of books, as well as curriculum resources and technical assistance for schools and families to help support read-at-home incentives. What a wonderful way to help students develop a love of reading!