Delaware Building H.E.R. Program Hosts Thanksgiving Food Collection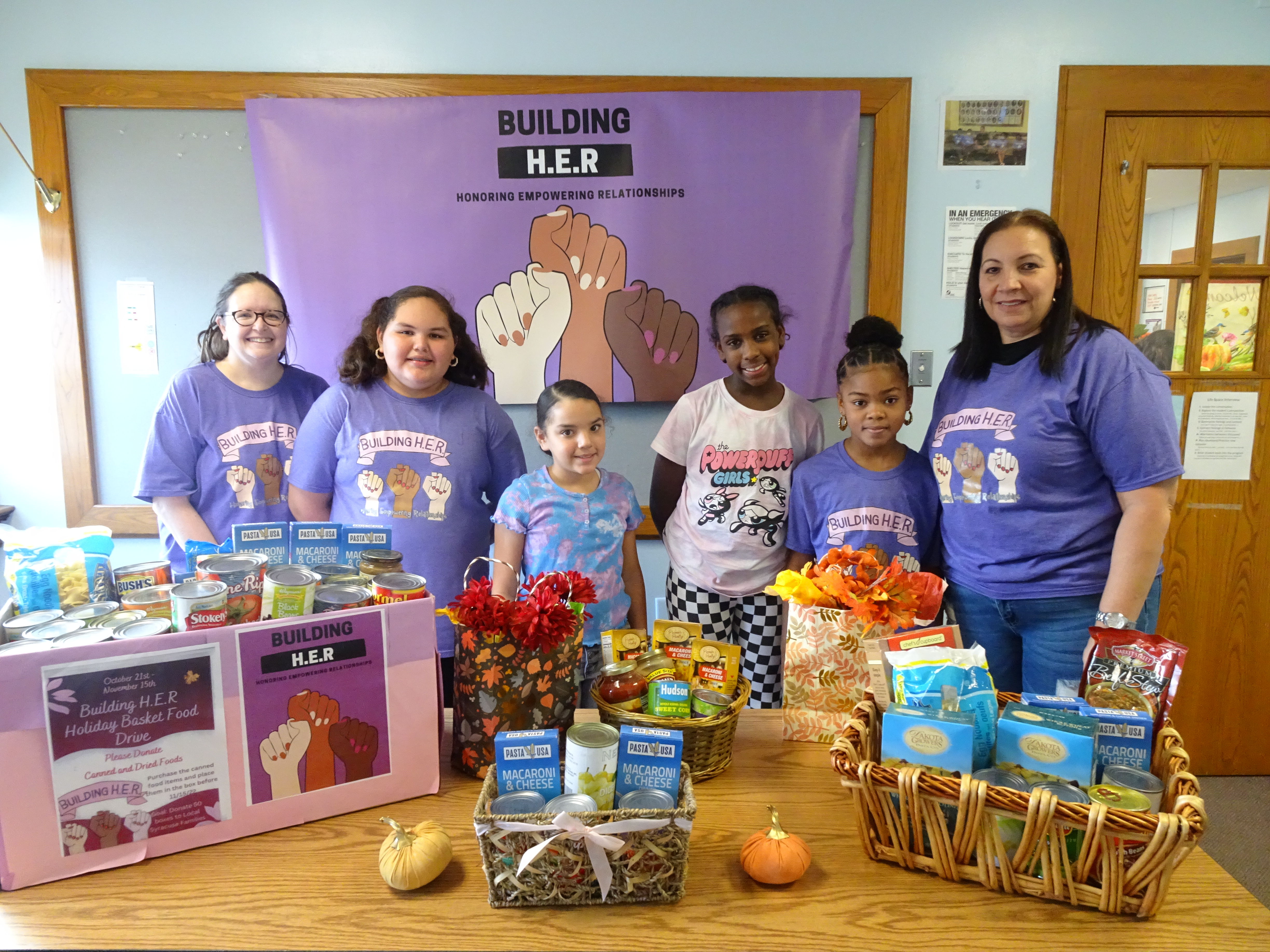 "I feel like a leader because I'm helping families in need," Delaware Primary School fifth grader Malany Vazquez explained.
For several weeks, Malany and her peers in the Delaware Building H.E.R. program had been collecting nonperishable foods for a Thanksgiving food drive. Next, they were preparing to create baskets of food. Then, they would be working with school social workers to distribute the baskets to families in need.
Through Building H.E.R., a girls empowerment group, staff aim to help the young women develop positive relationships that ultimately encourage them to be strong leaders.
In their regular meetings at St. Lucy's Church, the girls discuss monthly community service projects, like the Thanksgiving food drive. This year, the students have sold donuts to raise money for the Vera House and cleaned up trash around St. Lucy's. Following the Thanksgiving food drive distribution, they hope to assist with their school's annual holiday toy drive and food collection.
They also spend a good deal of time on personal reflections. How do we calm ourselves when we get frustrated? What makes us important? How can we be a better leader in our community? Many of the girls expressed forming friendships with students in other grades that they otherwise wouldn't have met if it weren't for Building H.E.R.
"I've seen these girls grow so much in their confidence," Delaware ENL teacher and Building H.E.R. advisor Kelly Durantini shared. "Seeing them help others in the community really helps them feel proud."
"It also helps them feel part of the community," Teaching Assistant and Building H.E.R. advisor Ivonne Fernandez added. "That can be challenging sometimes in this community."
We're proud of these young leaders for doing their part to help the Syracuse community!
Building H.E.R. is open to any girl in 4
th
through 11
th
grades. Anyone interested in learning more is encouraged to follow the group's Facebook page @BuildingHERInc.