PSLA at Fowler Students Celebrate Their Heritage through Latina Mentoring Initiative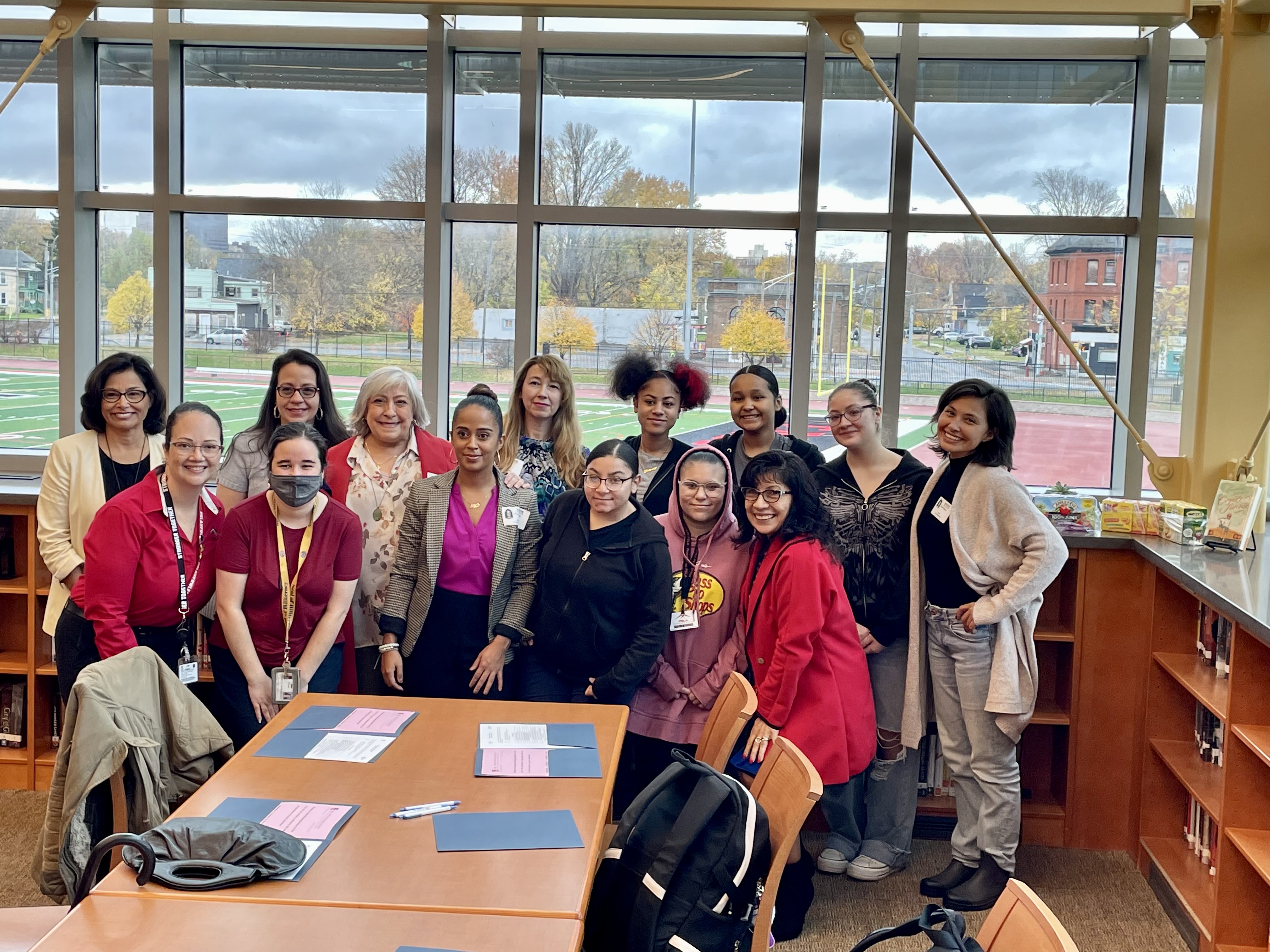 It all started on October 21, 2021 – Latina Equal Pay Day. That's when Governor Kathy Hochul announced the launch of the Latina Mentoring Initiative, a program that would be enacted in schools throughout New York State, to help support young Latinas and begin leveling the playing field.
Thanks to assistance from the New York State Mentoring Program, the Governor's Office of Diversity and Inclusion, the Office of Women's Affairs, and interest from local Latina leaders, a Latina Mentoring Initiative (LMI) group started at PSLA at Fowler that same school year.
Fanny Villarreal, Executive Director of the YWCA of Syracuse, was the one who kickstarted the group at PSLA, after receiving a call from the State. When she came to the U.S. from Peru years ago, she took English classes at night at Fowler, so she's always had a soft spot for the school, which she said feels like home.
"I knew immediately: we'll start it at PSLA at Fowler," she explained. "It's a great opportunity for Latina girls to see that there are Latina leaders here in Syracuse. We have to connect students to these leaders in order for them to really see what they can do themselves. The LMI shows them that they can do it – they can do anything. It opens their eyes and shows them that there is opportunity for them – it's hard work, but they can do it!"
The LMI group meets weekly during the school day. Each girl is paired with a mentor, who she works with every week to build that relationship. Each month, the group focuses on a different goal. Ultimately, they hope to build cultural connections, build trust, and set the tone for empowerment, healthy boundaries, and social skill building.
"We talk about how to put our community out there, how to show our culture, and what it means to be a Latina," senior Emily Aponte shared. "I talk to my mentor about what I'm struggling with and how I can make things better."
"It's nice to make connections and talk about what we want to do in the future," sophomore Veronica Torres shared. "I want to be a cosmetologist one day, and it's nice to have a mentor who can help guide me in how I can get there."
Those connections – those supportive relationships – are what LMI leaders say they hope is the takeaway for all the young women participating.
"We hope that the group ultimately empowers our girls and gives them new ways to connect and learn to engage with the community," PSLA at Fowler Vice Principal Ingrid Paredes said. "Our goal is to help the girls harness their assets and be proud of who they are so they can stand tall. The group allows them to meet strong female role models and understand how the community works, as well as how to leverage their culture in our community. By engaging with their mentors, they start to see that they are represented, in our school and in our community. They see that their voices are being heard, and that their voices matter."
With their mentors, the young women work to develop college and career ready skills; practice interview skills in both English and Spanish; connect over teenage experiences, engage in activities to help express themselves; and more. This winter, they even had the opportunity to attend the East Coast premiere of a fully bilingual play at Syracuse Stage, where they met with the Latina director!
Group leaders are hoping to gradually expand, so eventually there are LMI groups offered at Syracuse STEM at Blodgett and Seymour Dual Language Academy as well. Then, the program could 'follow' girls as they grow – with both mentors and the PSLA LMI members serving as constant supports for the younger girls as they advance through their schooling.
Keep up the great work, LMI participants – and thank you to the mentors who are working to grow this program within the SCSD! Any PSLA at Fowler Latina who is interested in joining the program is encouraged to reach out to Ms. Paredes.