Young Women Gain Self-Empowerment through CHOICES Group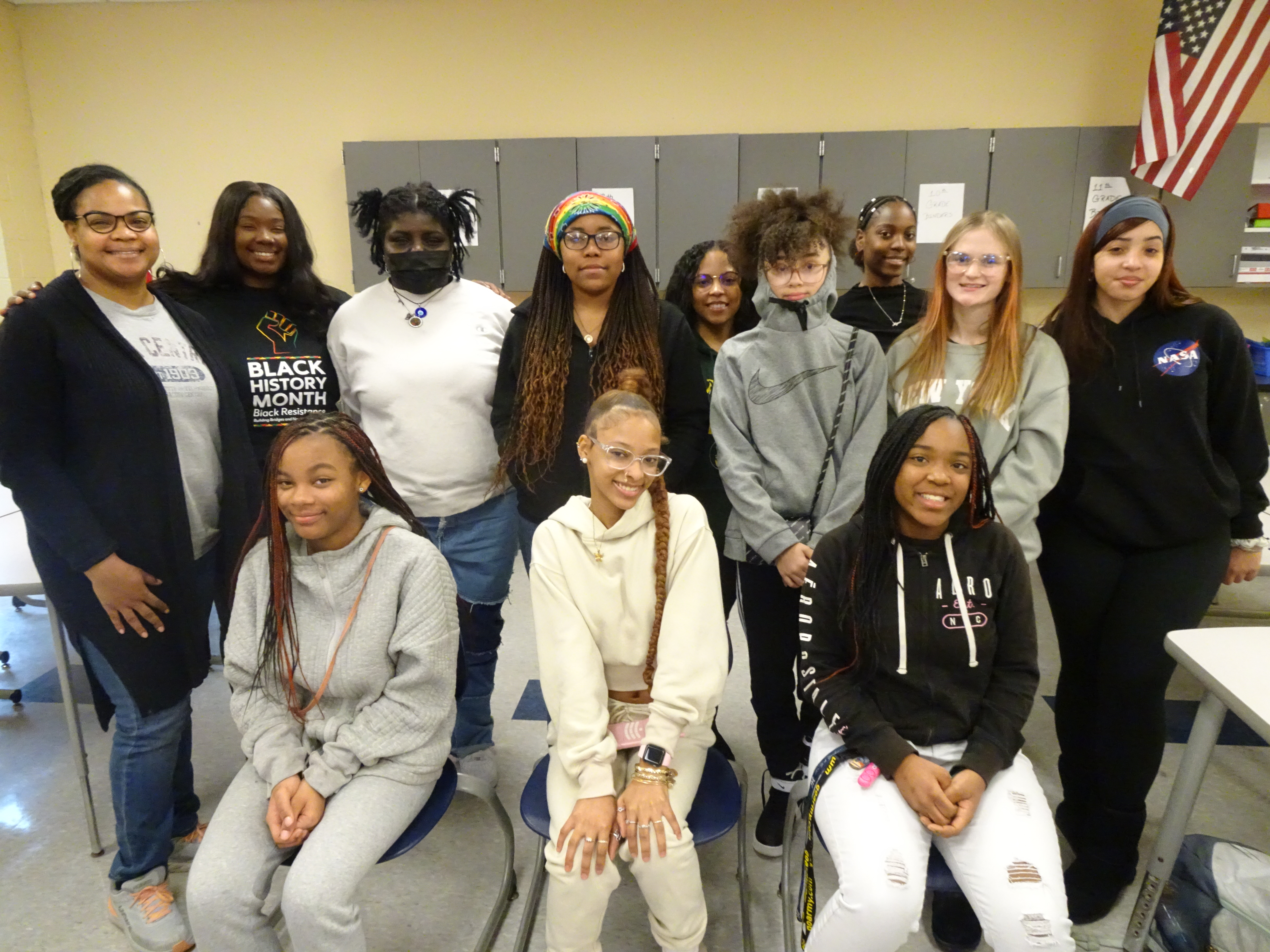 "I'm dedicated to graduate and I'm determined to get into Howard University," a young woman, gathered in a circle with her peers, shared.
"I'm comfortable in myself and don't give a second thought to what other people think," another contributed.
"I have the knowledge and ability to achieve anything I want!" the girls collectively affirm.
Since 2006, Creating Heightened Opportunities in Community, Environment, and Self – CHOICES – has been offering young women exactly that: heightened opportunities. Since 2015, the group has been offered at ITC.
Twice a month, a group of about 15 young women from ITC and HW Smith gather after school. There, they engage in workshops focusing on higher education, community activism, self-development, literacy, financial management, performance art, and more.
"These workshops are designed to stimulate critical thought, supply outlets, and introduce our young women to aspects of life they may not ordinarily be accustomed to, and provide them with tools to be productive and contributing members of society," program advisor and ITC Culinary Arts teacher Yalonda Bey shared. "Our young women also acquire leadership and professional development skills. The role models and individuals they encounter are instrumental in their relationship and capacity building."
Together, the young women discuss personality traits, people that inspire them, who and what they aspire to be, and even choose personal affirmations – all in an effort to help them connect over shared feelings and experiences.
"My mom signed me up for the group because she wanted me to have something to do after school," HW Smith 8
th
grader JaNhi Merritt said. "But I actually really like it. CHOICES allows me to express myself and how I feel – like, really open up. If you hold things in, that doesn't help you. You really need to let things off your chest so you don't carry that weight, and this group lets me do that."
"My favorite thing is when I come in and see girls I don't know, but we connect in so many ways," ITC junior Janiah Shadreem said. "It's important for us to have a group like this because as girls, it's easy for us to get overwhelmed, and it's important for us to have someone to talk to. We know that whatever we say, it stays in this room – so we're comfortable to speak up and talk about our problems. CHOICES motivates me, because even if I'm sad, it makes me feel really happy just to step into this classroom. It takes my mind off of whatever might be bothering me."
At CHOICES, participants come from various walks of life – and the group aims to provide them with resources they may not have had access to otherwise, helping students develop on personal, social, academic, and professional levels.
"
Many of our students start off in CHOICES very shy and keep to themselves," Ms. Bey said. "By the end of the year, we see our girls expressing themselves more, showing confidence, and advocating for themselves. CHOICES undoubtedly helps students find their voice and empowers them to be the best version of themselves! We've seen our girls go from undecided high school students to well-equipped college students at universities as well as professionals within their career fields."
Many CHOICES alumnae are currently in college, pursuing majors in STEM and social science fields. Others, from the earlier years of the CHOICES program at ITC, are now doctoral students, educators, and entrepreneurs!
"The feeling I get from helping these young women is like no other," Ms. Bey added. "The board members of the Image Initiative, Inc. were once young black and brown women, so we know the importance of CHOICES and why it is necessary. We have reached well over 1,000 girls in the Syracuse City School District, and we hope to reach thousands more in the coming years. We are so grateful to be able to empower our girls!"
CHOICES is open to any SCSD students in grades 8-12 – interested students should reach out to their School Counselor. The group is hosted by The Image Initiative – learn more about it by visiting
https://www.imageinitiative.org
.