PSLA Students Celebrate Diversity with Flag Artwork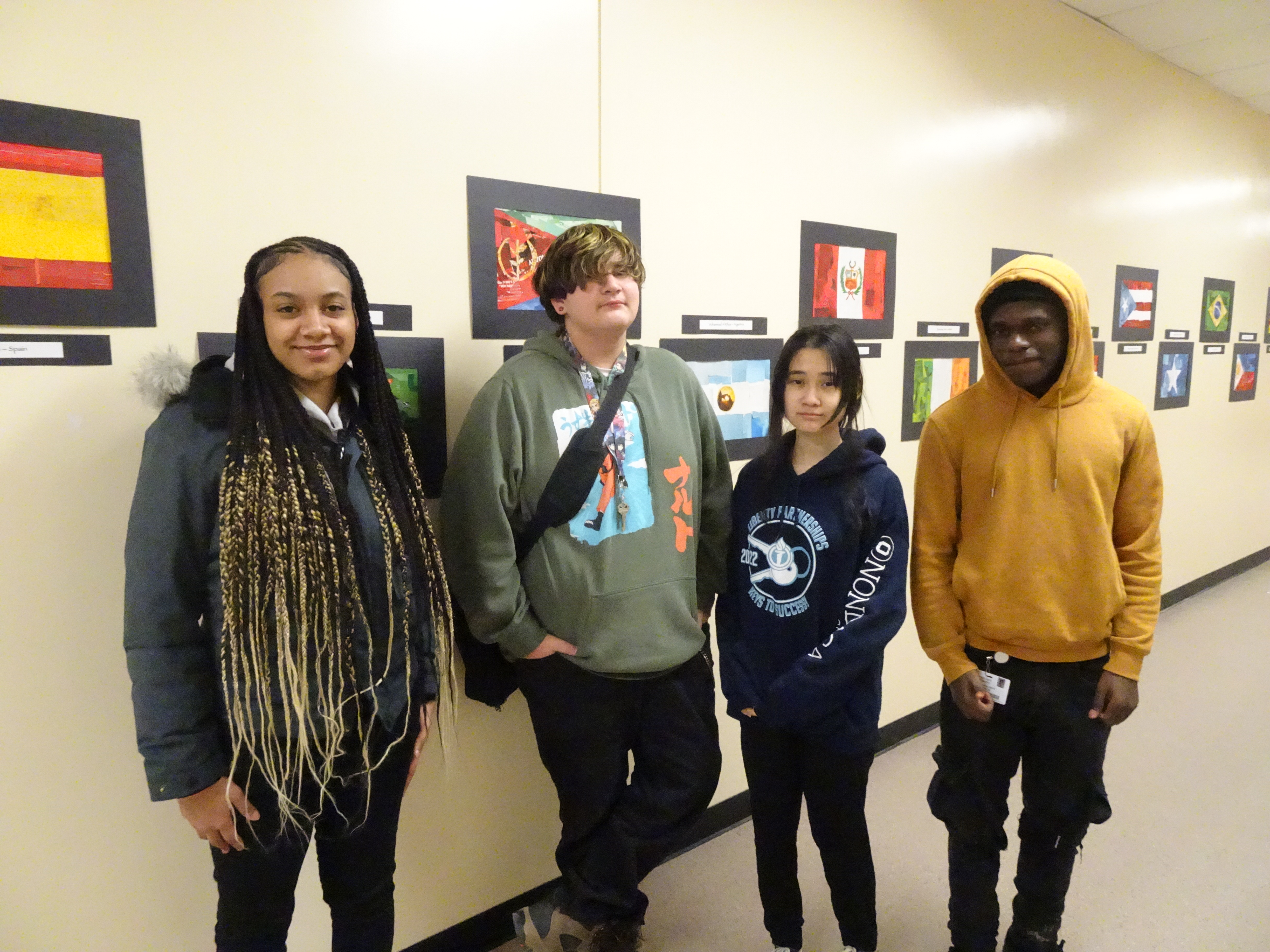 Somalia, Sudan, Rwanda, Thailand, Nepal, Senegal, Burundi, Yemen, Congo, Kenya, Cuba, Eritrea, Vietnam, Iraq, Palestine, Pakistan, Dominican Republic, Jamaica.
These countries are among the dozens that were represented in the hallways of PSLA at Fowler this school year – thanks to the school's student artists and a creative art project.
"We have always had a very international population here at PSLA at Fowler," Art Teacher Eric Williams shared. "It's one of my favorite parts of working here! Our multicultural fair was always one of my favorite days of the school year – I feel that it is part of our school's culture that should be celebrated."
Each year, Mr. Williams assigns an art project in which students create flags – putting effort into making sure that all of his students' native countries are represented. The lesson is part of a sequence on mixed-media assemblage, which he notes is a great transition from other 2-D media, like drawing and painting, into more construction type techniques. Students learned to appropriately use sharp cutting instruments and adhesives, use rulers to accurately measure space, and keep in mind the neatness of their workspace and the final aesthetic value of their work.
After researching different flags, some students chose solely on appearance. One student noted he selected the Canadian flag simply because he liked the maple leaf. Others were drawn to colors, symbols and more.
"I chose to make the Seychelles flag," junior Neysa Williams-Brantley explained. "I was researching flags, and this was the first one to catch my eye. Seychelles is a small, tiny island in Eastern Africa, close to Madagascar. The colors really caught my eye! It's cool to see the diversity of all of these pieces displayed together."
A notable result of the project was the opportunity for some of the student artists to come to terms with – and celebrate – their own backgrounds.
"I chose the flag for Burma, because it's a major part of my ethnicity," sophomore Paw Eh Blut Say said. "I haven't really embraced it because I used to be ashamed of it. This project helped me realize the beauty in that culture and appreciate what my mom did for me. My mom is from Burma – now I feel proud to embrace that, because it represents who my mom is and what she has given me."
"I created the Uganda flag because it holds a lot of memories for me," senior Michael Sabiti shared. "I was born in Uganda and came to the United States in 2016. I remember that we had to walk like five miles carrying a bucket just to get a drink of water. But this project helped me remember all the good memories, too – not just the struggles. This project is important because it shows our differences and represents the struggles we have all overcome."
We're proud of these student artists for using their talents to help celebrate #SCSDDiversity!