Van Duyn Students Lead SCSD Staff in Professional Development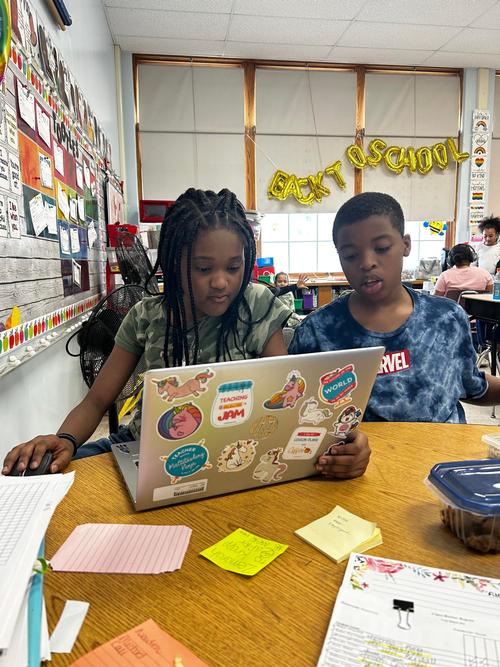 "Would you like to help teachers be better teachers?"
Van Duyn 4
th
grade teacher Thien An Huynh-Boyle asked this of two of her students, gauging their interest in leading a Professional Development session for SCSD teachers to talk about how teachers can create identity affirming classrooms.
For Se'Maj Boatwright-Baines and Jae'Lon Green, the answer was a quick 'yes!'
So, in late April, as their classmates and fellow SCSD students were home in celebration of the District's first observance of Eid al-Fitr, Se'Maj and Jae'Lon led dozens of SCSD teachers in their own student-led training session.
"You can start with the way you decorate your classroom," Se'Maj Boatwright-Baines shared. "You can have a memory wall to show photos of the class together, a student highlight wall with cards or artwork students give you, a wall for Tootles – compliments that you write to students or students write to each other…"
"Teachers should also embrace their students and make sure their identities are shown in the classroom," Jae'Lon added. "That means embracing students who are LGBTQ or different races, so they feel seen. In our classroom, Ms. Huynh lets me be my silly, dramatic self. She lets me dance around sometimes. We can joke a lot… these things make me feel seen. I know she cares about me because she lets me be my authentic self. Being in this class makes me feel empowered because I know I have my teacher with me and that she's on my side."
Ms. Huynh-Boyle said her students were full of tools and resources that teachers could take to their own classrooms to help their students feel seen.
"This session was all about the importance of advocating for your children, speaking up for them, and amplifying their voice so they feel seen and heard," she said. "It was amazing being able to see my students shine and tell other teachers what it is that helps them be successful in school. It was so nice to see them give teachers advice – it was really powerful for me as their teacher to see my kids sharing their experiences as leaders outside of the classroom environment."
Over the course of three sessions, students had the opportunity to speak with teachers across all subject areas and grades, noting that they "taught" middle and high school teachers – gym, music, and art teachers, and even librarians!
One teacher asked how to make students feel more comfortable in their classroom.
"I suggested they provide more choices and options for what students can do," Jae'Lon recalled. "You can also offer different places for students to learn, in case they want a quieter environment off by themselves that is less crowded."
Another teacher asked the students one thing they'd like their teachers to know.
"I'd like all teachers to tell their students that they can be themselves, whoever they are," Jae'Lon said. "If we dance, dance with us. If we sing, sing with us! When you embrace us, it makes us feel safe and valued. And when we feel safe and valued, we want to come to school!"
Way to go, Se'Maj and Jae'Lon – we're so proud of your leadership!