Students Give Back and Plan Ahead through Bea Gonzalez Fellows Program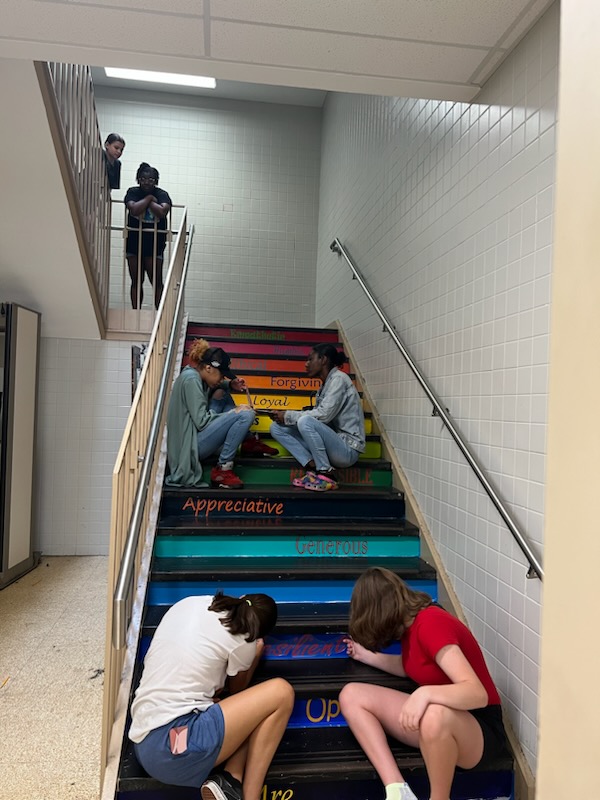 More than 850 SCSD students took advantage of the opportunity this summer to give back to their community through service-learning projects and enrichment – while also learning about financial literacy and looking ahead to their future.
Through the Bea Gonzalez Fellows Program, funded by the Allyn Foundation, students learned through engaging lessons on financial literacy, mental health and social-emotional learning, nutrition, self-care, and work and life skills. Students at SCSD high school summer school sites, as well as Clary, Huntington, HW Smith, Frazer, Oasis, Roberts, Dr. Weeks, Lincoln, and Brighton Academy who completed the program and met required criteria were awarded $350 (middle school students) or $550 (high school students).
"I like learning new things," Clary 8
th
grader Sha'laila Smiley said. "This is the first time I've made money… it feels like a practice job that will help me know what to expect when I have a real job."
That's one of the goals of the program: helping students envision a solid quality of life for themselves.
"I asked my students what they would like to learn when it comes to financial literacy," Clary Special Education teacher Sarah Lindovski, who worked with the Bea Gonzalez Fellows at the Clary summer school site, shared. "Money managing was a big one. Some of our students are good with money when it comes to real life situations, so we talked about managing an account, paying bills, we learned about taxes, and we focused on how saving can go a long way."
Ms. Lindovski led an activity in which she allotted each student $50 of imaginary money in a bank account that they could use to buy snacks or drinks from the 'store' in her classroom. Over the course of the summer, students learned about the differences between withdrawing money for their purchases and depositing money that they received for doing community service, showing positive behaviors, and participating in class. Taxes were incorporated with a fine of $2 for using inappropriate language and fees of $5 for not participating.
At PSLA at Fowler's summer school site, students learned about finances by completing an activity in which they selected a future job, researched a salary, and pretended they had housing and other expenses to pay – breaking down their monthly budget and determining how they would pay their bills.
"I had a completely different mindset going into that activity than I did coming out of it," Nottingham freshman Jaylynn Brown explained. "I want to be a lawyer, and I thought I'd have mad money. I thought I'd have like 10 cars! But I found that after all of my mandatory expenses, I have very little left. I learned how hard it must be for parents. This experience has made me confident that I'll be able to be responsible with my spending."
"I've learned a lot about finances and how to budget," PSLA at Fowler freshman Adija Raacha said. "I decided to start saving now so I'm prepared for the future."
"I learned that things are expensive," PSLA at Fowler freshman Beverlianys Romero-Trinidad added. "You have to save a lot! My uncle signed me up for a teen savings app so I can start saving for emergencies."
Students also prepared for their future by practicing interviews, developing their communication skills, and more.
Through a variety of enrichment and service-learning projects, students also had the opportunity to get involved in their communities. Students at the Roberts summer school site took a field trip to a local duck pond to pick up trash and feed the ducks. Students at the PSLA at Fowler site hosted a campus cleanup and helped beautify the school grounds; and students at the Clary site planned to make bagged lunches for a local shelter.
At many sites, students also gave back through tutoring their classmates or helping out in summer school classrooms as needed.
"It's been easy for me to connect with the younger kids," PSLA at Fowler 9
th
grader Jahdir Hill said. Jahdir had been helping younger students at the Roberts summer school site with their basketball skills. "I've never worked with younger kids before, and I've never had a summer job before, but it's fun. I'd do this for free… but knowing that I'm getting paid gives me another reason to come!"
"This has been a good opportunity for me to help out at the school," Corcoran 9
th
grader Zoey Roberts said. "I've served ice cream and helped students in the computer lab. I'm excited to get paid… I'll use the money for back to school stuff, like clothes and makeup. Through the program, we've learned about finances – it's helped me learn how to be responsible with my money."
Thank you to the Allyn Foundation for making this #SCSDSummerLearning opportunity possible for our students!