SCSD Musicians Start Up First-Ever SCSD Competitive Marching Band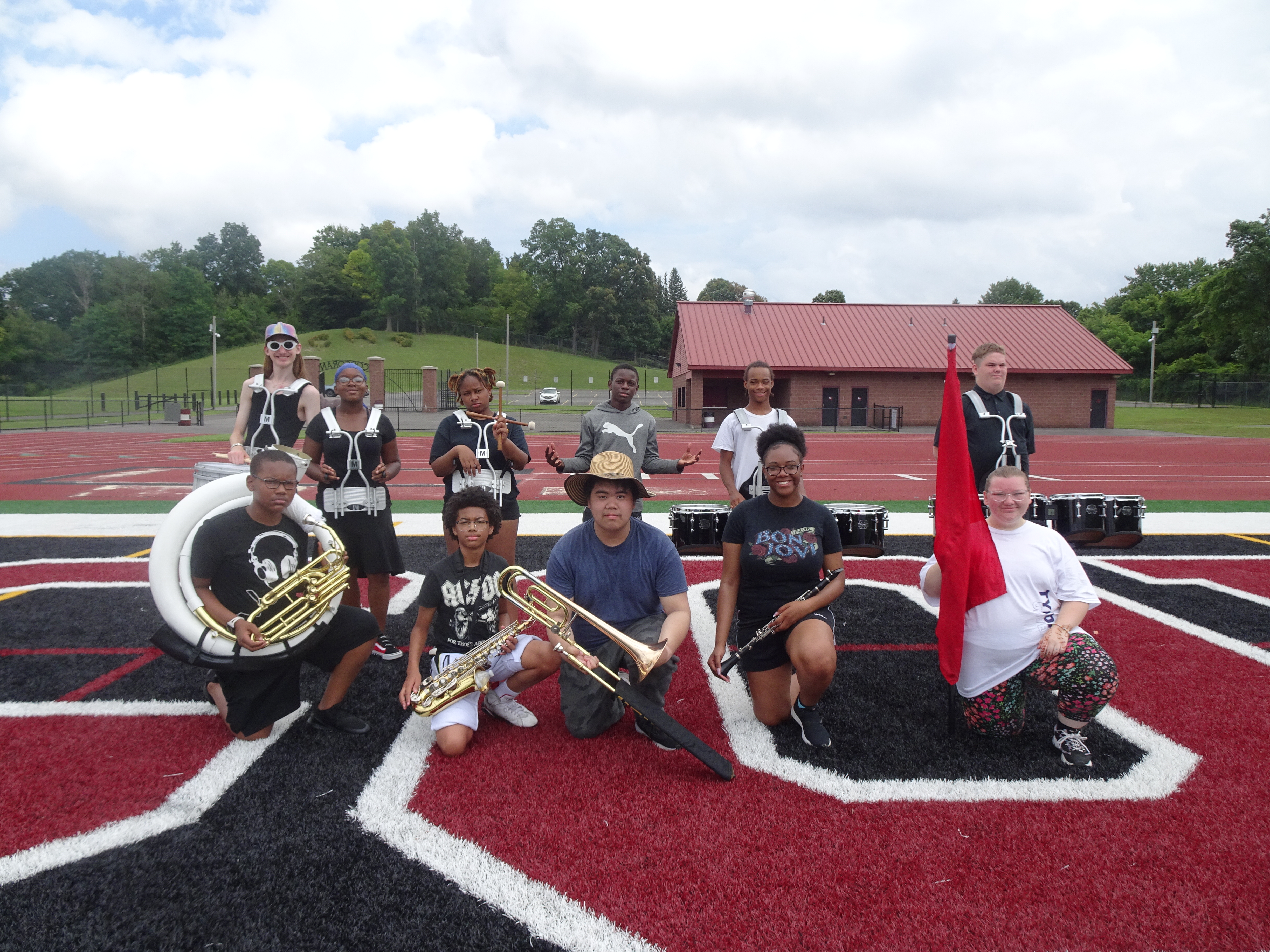 "Line up on the 40!"
Henninger High School Music teacher Holly McCoy shouted across the football field at the Corcoran Athletic Stadium.
Music played from a Bluetooth speaker while Ms. McCoy led students in a series of warmup stretches.
The dozen or so students represent various SCSD middle and high schools and are part of the District's first-ever marching band. They were getting their bodies ready for the task ahead of them: managing their instruments as they worked through an impressive performance marching to "We Are Young" by Fun.
SCSD high schools including PSLA at Fowler and Henninger have offered 'parade bands' through the years – together marching in local parades. But as a marching band, the possibilities open for the students to perform on-field routines, as well as compete in a state championship each fall.
The SCSD marching band made its debut as a summer program this year, playing more complex music than a usual parade band, and with the goal of expanding to become a competitive marching band in the 2024-25 school year. SCSD Director of Fine Arts Rory Edwards notes that currently, none of the "Big 5" school districts in New York State have an active marching band – making the SCSD group even more notable!
Henninger senior Jamey Huynh has been playing trombone since 4
th
grade.
"It's fun to be part of a band," he said. "At Henninger, we have a [parade] band during the school year, but this group is different. Here, we're practicing to perform on the field and in a more competitive way. It's fun because we get to try out new movements that we don't get to do during the school year. The biggest challenge is trying to cram all of this in during just a couple of weeks. Our idea is to organize ourselves now and we'll continue into the upcoming school year. It's a lot of pressure to be one of the first marching bands in the Big Five because we're setting the precedent, but it's exciting that I get to be a part of it!"
Fellow bandmate and Henninger senior Ja'Niyah Lacey has been playing clarinet and bass clarinet since 4
th
grade.
"Marching Band allows me to have new experiences and see that I can do different things with the clarinet other than just concert band," she said. "I'm proud to know that this is the start of something that could really grow to be something bigger in the future!"
After the summer Marching Band Camp wrapped up, students continued their practice by planning additional rehearsals in August. They plan to perform at a handful of community and athletic events this fall, including parades, City vs. City football games, and more. We're proud of these groundbreaking #SCSDArts performers and teachers Holly McCoy and John Chiamulera for their leadership and guidance!