Students Learn Putting and Perseverance through First Tee Golf Experience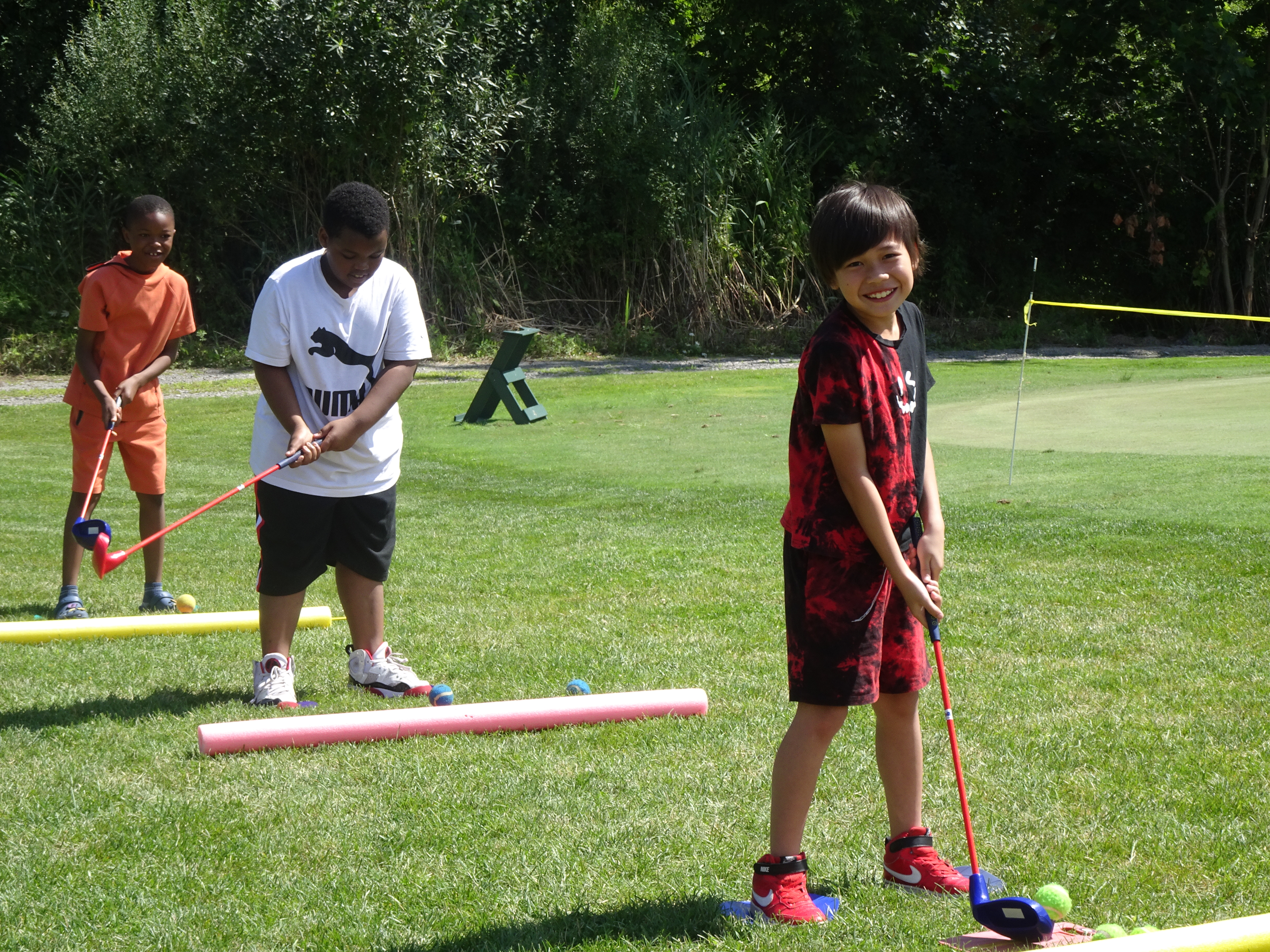 "Square your feet up! Look where you're facing."
Robert Dixon, a former SCSD Physical Education teacher, is now Head Coach for the First Tee Syracuse program. He regularly instructs golf beginners on the basics: the golfer's stance, how to hold a club, and how to putt.
This summer, Coach Dixon and his First Tee colleagues helped introduce 300 SCSD summer school students to the game of golf through their program at the Butternut Creek Golf Course. Students from Franklin, Frazer, McKinley-Brighton, Meachem, Seymour, Dr. Weeks, Huntington, HW Smith, and Clary all had the opportunity to experience the First Tee program. Together, they worked with coaches to engage in team building, warm up drills, and of course – golf.
"I've never played golf before," Huntington 5
th
grader Brenden Skipp said as he demonstrated his grip on his golf club. "They told me to hold the club a specific way, and now it's pretty easy!"
"It's kind of like baseball, but on the ground!" classmate Robert Tassi exclaimed. "I've played mini golf before, but this is different because the club is heavier. I have to use more power, so it's harder to play!"
"I've always wanted to play golf," Ed Smith 5
th
grader Preston Simmons said. "It looks so fun! My favorite part has been hitting the ball. I was surprised that I could hit it so far!"
"Our goal is to expose them to a game they may not otherwise have the opportunity to play, and to get them out in a green space in a fun and playful way," First Tee Syracuse Program Director Daria Webber said. "Our coaches also talk about our core values, including respect and perseverance, among others. We are very community oriented, and it's our goal to have as many kids out to enjoy it as possible."
"Some of these kids don't give themselves a chance," Coach Dixon said. "Their faces when they see all the green out here and when they finally have a chance to hit the ball… it's pure joy."
Coach Dixon noted that he's had former SCSD First Tee students go on to follow the First Tee program as they age, pursue golf in high school, and even continue the sport into college. He noted that scholarships are available for students interested in pursuing the sport – families can learn more and apply by visiting
https://firstteesyracuse.org/programs/scholarships/
.