Middle School Students Enjoy Manufacturing Day at JMA Wireless Dome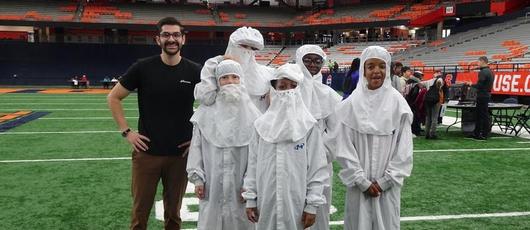 "Who here has ever built a Lego tower?" a MOST staff member asked a group of students, as hands popped up. "Then you've already experienced the engineering design process!"
Micron, IST/Schneider Packaging, SRC, the MOST, and MACNY were all on hand at an Advance Manufacturing/Innovation Fair at the JMA Wireless Dome recently – an event organized by the SCSD Career and Technical Education Department, Department of Science and Technology, and STEAM School. The event was created in celebration of Manufacturing Month (October) and was intended to create an opportunity for SCSD 7
th
grade students to connect with manufacturers from our area and beyond. Students from Brighton Academy, Clary, Ed Smith, Oasis Academy, ELMS, Frazer, Grant, Huntington, HW Smith, Lincoln, Roberts, Syracuse Latin, and Syracuse STEM at Blodgett all attended.
The students, who will soon be selecting high school pathways of study – and will be among the first to have the opportunity to apply to the new STEAM school – rotated through stations in the Dome, participating in hands-on learning and asking questions of professionals working in STEM and manufacturing fields.
"It's about 200 degrees in there," an IST/Schneider staff member explained to Huntington students as he demonstrated a 3D printer at work.
"Does anyone want to try on a bunny suit?"
Syracuse Latin 7
th
graders raised their hands.
A Micron staff member explained how Micron staff wear clean suits to ensure that workspaces don't become contaminated, as students had the opportunity to try the suits on for themselves.
"It's actually kind of comfy!" one student said enthusiastically.
Students participated in a competition to build the tallest tower out of index cards and masking tape; used a remote to operate a Fanuc ER-4 robot arm; collaborated in a manufacturing effectiveness challenge to see who could create the most functioning pens in three minutes; practiced operating a drone; and more.
"This was my first time controlling a robot," Ed Smith 7
th
grader Dean Holland explained as he stood at the IST/Schneider station, next to the Fanuc robot he had juts operated. "It was way harder than I thought… there were so many buttons! My hands were sweating afterwards, but it was so cool – I felt like I had power over the world!"
"This was interesting," Lincoln 7
th
grader Savannah Murray added as she walked between one station and the next. "I've learned more about how things are built and how companies work. I'm not really interested in technology, but I liked learning about how iPhones are built – I didn't know they used 3D printers to make some of the parts!"
For some students, who already have a pre-existing interest in STEM and manufacturing careers, this event was extra special – a great way for them to see the variety of ways their education can set them up for success; and to expose them to the various high school CTE pathways that could be of interest to them.
"I want to be a 3D operator one day," Huntington 7
th
grader Ishmael Magar shared. "I like technology because I enjoy how you can be creative with different designs and how you can help people by using technology. In 5
th
grade, I built and coded a VEX robot, and now I have a laptop at home where I practice my coding. I'm asking my parents if I can go to ITC to study Manufacturing Technology! It's been so cool to see how 3D printers work and the mechanics of them."
"I'm interested in engineering and science," Grant 7
th
grader Taeh Kolo added. "I take an after school engineering class, where I've built a water wheel and converted it into energy using a generator. I'd definitely like to study this stuff in high school, because I want to be a chemical engineer one day. I'd love to have a job where I can do both chemistry and engineering… I'm inspired being here today – I feel grateful."
Thank you to the businesses who partnered with us for this event! To learn more about the various CTE opportunities available to SCSD high school students, please visit
www.syracusecityschools.com/CTE
.