Special Education Students Experience College – and Independence – through SCSD and SU Partnerships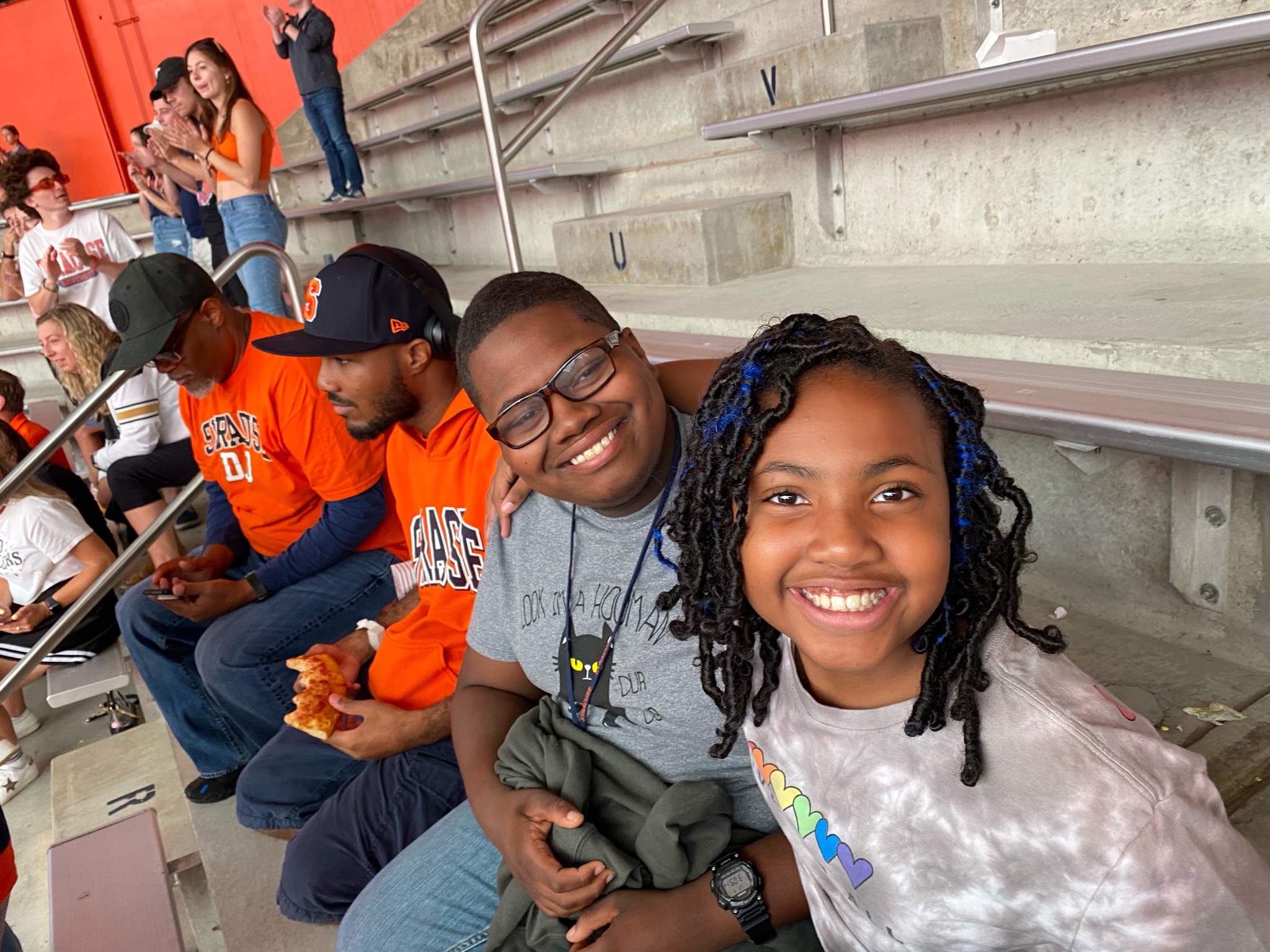 Each morning last year, Emilio Smith got on the bus at his house and was dropped off on the Syracuse University campus. There, his SU mentor met him, and he began his day.
Emilio, a 2022 Corcoran graduate and former SCSD Special Education student, experienced college life during his senior year of high school as part of the OnCampus program. OnCampus offered him the opportunity to spend a year on the SU campus, attending classes and seminars and receiving real-world experience, all in an effort to help him gain independence.
"Our goal with the OnCampus program is to help young people develop independence, as well as to experience social and emotional growth," Michele Krak, SCSD Special Education Teacher and SU OnCampus Coordinator, said. "All of our students have an Individualized Educational Plan… we truly have a unique group of individuals. We take this very diverse group and bring them together to discover what life is like on a college campus. We meet them at their level – we meet their sensory needs, academic needs, social-emotional needs; and we show them that they can be successful, and they can make friends, and it's okay to exhibit individualism."
Any SCSD student with an Individualized Education Plan (IEP) is eligible to apply for the OnCampus program, which is free for students. The program offers students the opportunity to engage in college classes where they can study a variety of classes: Anthropology, Art History, Earth Science, World Urban Geography, Inclusive Design and more. They are invited to attend seminars to discuss financial education, community service, and other life topics. They are provided with on-campus supports including speech, physical therapy, or other related services. Ultimately, from 7:15 am – 2:45 pm Monday through Friday, students are offered the ability to live and work as college students.
"It's not a typical high school experience," Ms. Krak explained. "We begin the day with breakfast and a morning meeting, and then the students are responsible for going about the day on their own assigned schedule. Some go straight to class; some meet their mentors. High school students ultimately need to grow, learn, and falter – it is our job to be there to support them through their SU OnCampus experiences. In this program, it's not a teacher-student relationship. It's a colleague-young adult relationship. We're giving power to these young adults – power and independence. We support them, observe them, and provide them with feedback so they can become confident young adults."
Emilio said his year with the program helped his confidence grow.
"With the OnCampus program, I took a history class and an art class," Emilio shared. "I was so focused, and I took notes, and I did projects. It was a good experience and it helped me feel prepared for this semester. It was my first time being on a college campus, and it's been brilliant. My favorite part is taking the classes, because it has taught me how to express myself and it's built my confidence."
After completing the OnCampus program, students have the opportunity to apply for continuing education through a Syracuse University program, called InclusiveU. The certificate program provides students with disabilities the opportunity to attend college and live in dorms to experience a 24/7 college experience!
"As an inclusive program, the benefit of InclusiveU is that the students have the opportunity to further their education in the SU environment," Brianna Shults, Director of InclusiveU, said. "Our mission is to make sure students leave with a really strong foundation of skills they can use after graduation. A lot of our students gain employment after college, have moved out of their family's home, and live an independent life – that they gained from attending the University and having that experience. We have a strong sense of community – our students can come back as alumni and still be part of the environment. Ultimately, InclusiveU offers students the opportunity to move into a more independent life following college."
Any SCSD student who has an IEP is eligible to apply for InclusiveU. The application process is competitive, and the program admits about 25 students per year. Students who may be interested in InclusiveU are encouraged to enroll in the SCSD OnCampus program first, to help students become familiar with the campus, build relationships with those on campus, and get a head start. Families interested in finding out more about the OnCampus program should reach out to SCSD Transition Counselor Brian Buda, or visit
www.syracusecityschools.com/transitionprograms
. To learn more about InclusiveU, visit
www.inclusiveu.org
.
Pictured smiling at the camera are OnCampus student Amir Utley and his cousin, Bri'Elle Donaldson; in the background are OnCampus student Chase Coleman and his dad, Stanley.