My Brother's Keeper Syracuse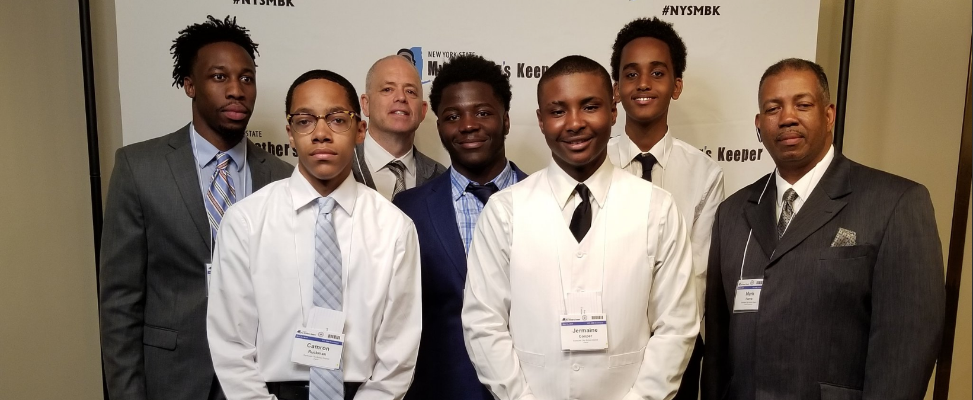 About
My Brother's Keeper Syracuse aims to create a movement in the Syracuse community that educates, motivates and leads to collaboration. MBK Syracuse will mobilize agencies, educators, businesses and foundations to provide opportunities, resources, and access to support our boys and young men of color as they grow succeed and prosper in a safe environment.
MBK Alliance
We believe that every young person deserves the opportunity to achieve their dreams, regardless of their race, gender, or socioeconomic status.
Contact
MBKSyracuse@gmail.com
Instagram
@MBKSyracuse
---
---
MY BROTHER'S KEEPER 6 NATIONAL MILESTONES
Getting a Healthy Start and Entering School Ready to Learn

All children should have a healthy start and enter school ready – cognitively, physically, socially, and emotionally.

Reading at Grade Level by Third Grade


All children should be reading at grade level by age 8 – the age at which reading to learn becomes essential.

Graduating from High School Ready for College and Career?

All youth should receive a quality high school education and graduate with the skills and tools needed to advance to postsecondary education or training.
Completing Postsecondary Education or Training

Every American should have the option to attend postsecondary education and receive the education and training needed for the quality jobs of today and tomorrow.
Successfully Entering the Workforce

Anyone who wants a job should be able to get a job that allows them to support themselves and their families.


Keeping Kids on Track and Giving Them Second Chances

All youth and young adults should be safe from violent crime; and individuals who are confined should receive the education, training, and treatment they need for a second chance.
---
MY BROTHER'S KEEPER IN NEW YORK STATE
Ensuring equitable access to high quality schools and programs
Expanding prevention, early warning, and intervention services
Using differentiated approaches based on need and culture
Responding to structural and institutional racism
Making comprehensive and coordinated support services widely available

Engaging families and communities in a trusted and respectful way