McCarthy at Beard School
---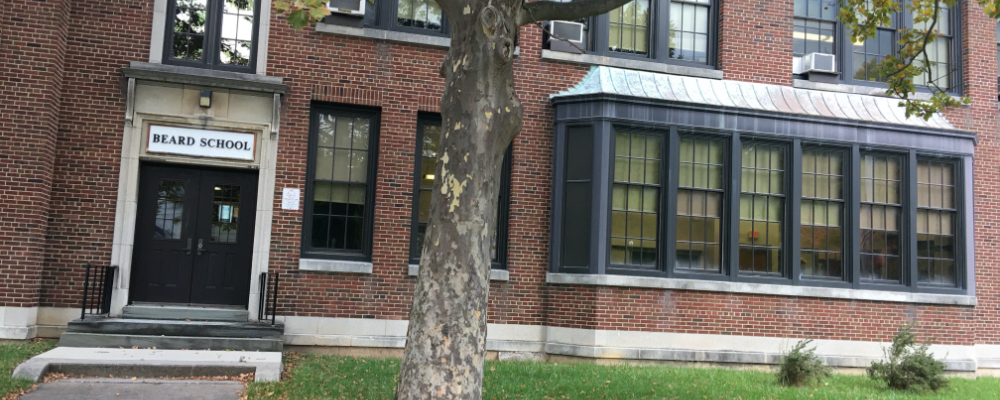 ---
Vice Principals
Melissa Tooley
DASA Coordinators
Amy Salisbury
Melissa Tooley
Main Office
(315) 435-5855
Nurse's Office
(315) 435-4341
Fax: (315) 435-4564
Social Worker Office
(315) 435-4073
School Address
220 W. Kennedy St. | Syracuse, NY 13205
School Hours
8:00 AM - 2:00 PM
---
Important Information
Panorama Survey
---
Pool Testing for COVID-19
---
Online Learning
---
United State of America Celebrating Black Culture
---
WEB VOICEMAIL FAMILY AND STUDENT TECH SUPPORT
Tech Support Line (315) 435-4696
Attention, Families:
The SCSD, in partnership with Wegmans, is pleased to offer a COVID-19 vaccine clinic at
Clary Middle School
(100 Amidon Drive) on

Tuesday, November 23, 2021 from 3PM-8PM.

The clinic will be open for SCSD students aged 5-11 ONLY.
A parent or legal guardian must accompany the child.
Due to a limited number of vaccines, registration is required.
Click here to register:
https://c.ateb.com/8a108e206c55489f80e53be68a69b8cc/
Thank you for doing your part to help keep our community healthy!
Mission Statement

ABOUT US

Vision
Statement

Teach students the skills
necessary for success in all social, emotional, and academic areas of their lives. All students will gain the skills necessary for healthy and active participation in the community.
The Syracuse City School District's McCarthy program provides unique and specialized services for students with social/emotional, behavioral and academic concerns that require expertise and resources beyond those of regular schools.

McCarthy Serves The
Following Functions:

Alternative Special Education Program

Diagnostic and Evaluation Programming Center

On site behavioral instruction Support


The McCarthy Program provides specialized psycho educational programming
for students K-12 for a smooth transition to regular
school settings.


Students will learn in a safe and supportive environment in order to develop the academic, social, and emotional skills necessary to then transfer those skills to a less restrictive learning environment.

Students and Family
Supports are Available




CREW

Crew is a culture that premeates the school and a structure that anchors students in their school community.







The SCSD has many academic, social, emotional and mental health supports available to students. School social workers can help connect you and your child to in school and/or out of school support that meet your needs. Please call us at
(315) 435-5855 and ask to speak with a Social worker for mor information and assistance.

McCarthy Crew Landing Page


McCarthy Crew Rolling Agenda











---
School News
SCSD Board of Education Business Meeting to Be Held December 8th:

The Board of Education of the Syracuse City School District will hold its regular scheduled business meeting on Wednesday, December 8, 2021 at 4:00 p.m . at 725 Harrison Street, Syracuse, New York. Face masks are required for entry to all District buildings, including Central Offices, and must be properly worn while in the buildings regardless of your vaccination status. To view the livestream of the meeting, please click here . Please note: While the meeting will ...

more >>
ITC Engineering Students Design Light Display for Zoo Holiday Event:

If you attend this year's Holiday Nights event at the Rosamond Gifford Zoo, you'll also be enjoying the craftsmanship of ITC engineering students – and their peers in the Corcoran welding program! 11 th grade Mechanical and Electrical Technology P-TECH students worked in conjunction with zoo staff to design large-scale steel light displays that will be part of the zoo's festive winter wonderland transformation. They designed and built large lighted pieces – ...

more >>
SCSD Students Inspired by Alumna at 'Know Your Worth' Event:

"I will be the best version of me," young women in the HW Smith auditorium chanted together. They turned to the girl to their left. "Not you." They turned to their right. "Not you." They pointed to themselves and said again, "I will be the best version of ME!" Young women across the Syracuse City School District recently enjoyed an inspiring morning of empowerment, thanks to a special 'Know ...

more >>
Roberts Students Love Literacy Thanks to Student-Led Book Clubs:

Advanced readers at Roberts have been given a special opportunity to further develop their love for literacy: student-directed book clubs! Fourth graders in Tessa Seymour's class who read at or above grade level were able to choose from a selection of books to read during their 'small group block' time. Based on the book they selected, students broke into groups to begin their reading and discussion. "I like the book clubs because I'm able to read ...

more >>
SCSD Board of Education Business Meeting to Be Held November 10th:

The Board of Education of the Syracuse City School District will hold its regular scheduled business meeting on Wednesday, November 10, 2021 at 4:00 p.m . at 725 Harrison Street, Syracuse, New York. Face masks are required for entry to all District buildings, including Central Offices, and must be properly worn while in the buildings regardless of your vaccination status. To view the livestreaming of the meeting, please click here . Please note: While the meeting will ...

more >>
View more stories >>
Links
Downloads