SCSD Athletes Attend Inaugural Manny Breland SCSD Empowerment Conference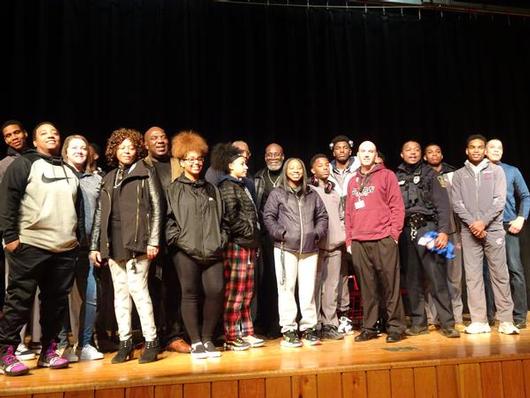 Student athletes from Corcoran, Henninger, ITC, Nottingham and PSLA at Fowler recently came together for the Inaugural Manny Breland Empowerment Conference. Held in advance of the third annual SCSD Showcase Basketball Invitational, the event was intended to help empower current student athletes by letting them hear firsthand the success stories of SCSD alumni.
Students gathered at PSLA at Fowler to hear speakers including Bishop G. Maxwell Jones (Central Tech), Pastor of The Apostolic Church of Jesus Christ, Inc.; Officer Brandon Hanks (Henninger), Syracuse Police Department; Howard Triche (Corcoran), Management at Anheuser-Busch; Sterling Lowry (Nottingham), Project Manager at Aspen Dental; Lonnie Johnson (Fowler), Syracuse Fire Department; and Keynote Speaker Manny Breland, who has been an Educator and Coach for more than 31 years.
The guests spoke about their backgrounds and their paths to success, noting that athletic success should not be the be all, end all goal. They spoke about challenges they faced and how they overcame them. After hearing each guest speak, students were able to ask the panelists questions, and even enjoyed a brief meet and greet before heading back to their respective schools.
"Whatever you want to do, you have to work at it to make it happen," SCSD Administrator for Health, Physical Education and Athletics April Wertheim said as she closed the conference. "We want you to be the next people up here on stage giving back. I believe in you guys. We need you to be leaders."
"It was inspirational," Corcoran junior George Chesna said. "They gave us good advice, like to work harder in everything we do and to avoid negative influences so we can keep moving forward in life."
"Hearing Officer Hanks was my favorite part," Corcoran freshman Maria Reid added. "He was straight up. He was from the hood, and he talked to us about how we can be better, and how we can rise above where we come from."
Thank you to all who participated in this inspiring event!