COVID-19 & 2020-21 School Year
---
The Syracuse City School District is dedicated to keeping students' and staff health, safety, and learning at the forefront of all planning as we navigate the 2020-21 school year.
COVID-19 Vaccines
To schedule an initial COVID-19 vaccine appointment or to schedule your second COVID-19 vaccine, visit the links above. Please check these websites frequently as appointments will become available as the vaccine becomes available.
Click here to learn about what happens before, during, and after an appointment to get vaccinated.
Johnson & Johnson Notice
If you have received the Johnson & Johnson COVID-19 vaccine and develop severe headache, abdominal pain, leg pain, or shortness of breath within three weeks after vaccination, contact your healthcare provider, or seek medical care.
Report adverse events following receipt of any COVID-19 vaccine to VAERS. Click here to learn more about VAERS reporting for COVID-19 vaccines!

Stroke Information (CDC)
Thrombocytopenia Information (NIH)
If you are scheduled to receive the Johnson & Johnson vaccine, please contact your healthcare provider, vaccination location, or clinic to learn about additional vaccine availability.
Information for Parents/Guardians
School Updates To keep our students and families safe, we are working with the the local health department to take action to help stop the spread of COVID-19.The health department will be in touch with those, both staff members and students, who they believe may have been exposed to individuals who have tested positive.

Please visit the NYS COVID-19 Dashboard for case numbers by school.

SCSD COVID-19 Notices Archive

Visits by Appointment Only
All District buildings are currently closed for drop-in visitors. If you need to visit any District building for any reason, please call ahead to set an appointment.
Transportation
The Transportation Department has sent home bussing information for all students who will receive transportation on the days they are physically in school. Please call (315) 435-4260 if you have any questions.
Prepare for Remote Learning
Visit our Digital Tools & Resources page for help getting started with remote learning. Book virtual appointments for assistance, watch tutorials, read instructions, and more.

SCSD will continue to provide computing devices to students in need and will be distributing hot spots to families without internet access to support 3 MB per month. Computing devices and hot spots will be made available for pickup from schools.

Do you need a device at home? Please contact your child's school to arrange a device pickup.
Mask / Face Coverings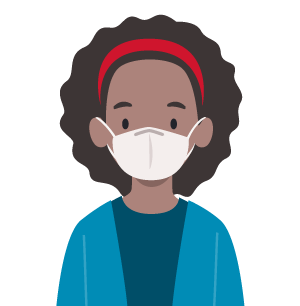 Students in the Syracuse City School District are expected to wear a face covering. In the event that a student needs one,one will be provided from their teacher/school.

Masks should always cover the nose and mouth. Masks should be washed after each use. It is important to always remove masks correctly by handling only the ear loops or ties and then folding outside corners together. Be careful not to touch your eyes, nose, and mouth when removing and wash hands immediately after removing, and wash your hands after handling or touching a used mask.
All students who are physically able must wear a face covering or mask while on the school bus at all times as well.

Learn more about face coverings
Symptom & Exposure Screening
All students, visitors (including parents/guardians) and staff must have their temperature taken and attest to a series of statements prior to entering a District building. Parents/guardians are also expected to screen their children for symptoms prior to sending them to school.


Daily Home Screening for Students
Staff, Student & Visitor Building Screening
CoVideo Chats
The Office of Family Engagement hosts a live chat open to all families every Tuesday at 6 PM and Thursday at 12 PM noon. We hope you'll join us! Look for topics and registration details on the SCSD Facebook page.

Topics have included things like SeeSaw & Canvas (5/19 & 5/21), grading (5/12 & 5/14), mental health (5/26 & 5/28), special education (5/5 & 5/7), reopening of schools (7/14, 7/16, 8/4, 8/6, 8/18 & 8/20), Pre-K, the Code of Conduct (7/28 & 7/30), registration (6/9 & 6/11), summer learning (7/7 & 7/9), and confronting racism (6/4).
Prepare for a Safe & Healthy School Year
Videos by WCNY
Links