Welcome to Food and Nutrition Services
One of the most important ways we can help our children perform better academically is to provide them with the nutrition necessary for the healthy growth of their minds and bodies. Our breakfast, Lunch, Supper, Fresh Fruit & Vegetable Program and Snack menus are designed to offer a variety of appealing and healthy food options for our students. Menus meet or exceed the regulations set forth in the Healthy, Hunger-Free Kids Act of 2010. Menus reflect increased fresh fruit and vegetable selections, whole grain breads, 100% juice products and skim, 1% and no fat chocolate milk.
At the onset of COVID, OSA and FNS provided a listing of enrolled SCSD children for NYS to issue pandemic EBT payments providing additional financial support.

Most benefits were dispersed beginning March 2020, though others may be receiving their benefits by the end of October. The maximum benefit any child can receive is $420 and is determined by the state.

We regularly refer families that call with questions about the benefit to: https://otda.ny.gov/SNAP-COVID-19/Frequently-Asked-Questions-Pandemic-EBT.asp, for more information.

If you would like to contact NYS with specific questions about the P-EBT please use the P-EBT contact form:
https://forms.office.com/Pages/ResponsePage.aspx?id=6rhs9AB5EE2M64Dowcge5xOHCi6o8CpIhK5UlB98liVUQlNLVkpSRFJQUlkwR1lCT1E4T09SVzc3Ry4u



The Syracuse City School District continues participation in the Community Eligibility Provision (CEP) under the Child Nutrition Programs. CEP is directed toward schools with a high percentage of economically disadvantaged students. Under CEP all students will receive breakfast and lunch at no charge for the entire school year. We offer daily meal service to our students when school is in session. During the school year we provide more than 11,000 breakfasts, 15,500 lunches and 7,000 after school snacks daily. We also offer a Summer Nutrition Program at select schools, city parks, churches and community agencies for six weeks during our Summer Nutrition program located at several schools, churches, Boys & Girls clubs and City of Syracuse Parks & Recreation sites. However, in order for the District to qualify for continued free meal services and to receive further state and federal funding and/or to determine your child(ren)'s eligibility to receive additional benefits, you will need to complete a household income eligibility form. The benefits a student may also receive with qualification for benefits are SAT and other testing fee waivers.

The health of your child is important to us. To ensure the safety and protection of your child from any potential allergens, communicating any known allergies and dietary restrictions to the school nurse is critical. A parent letter and documentation from a medical authority is needed.
For any student that has food allergies, an individualized food allergy management plan team will be formed within the school. Members of the team may include: school nurses, building administration, food service staff, Food and Nutrition Services (FNS), teachers, and teaching assistants in order to implement an individualized management plan for each student with food allergies. The 504 coordinator will monitor student's individual management plan and will meet on a yearly basis and as necessary to ensure management plan is up to date and being followed correctly.
Food Allergy Management Plan Team will:
•
Review district policy/ procedures, staff responsibilities, student privacy/confidentiality, signs/symptoms of an allergic reaction, and the use of epinephrine auto injectors.
•
Ensure epinephrine auto-injectors will be in a secure, accessible area accessible to all staff that have
•
Establish food bullying and harassment prevention strategies
•
Avoid the use of identified allergens in class projects, parties, holidays and celebrations, arts, crafts, science experiments, cooking, snacks, or rewards
•
Teach students to wash hands or use hand wipes before and after eating.
Cafeteria will make necessary substitutions to meals once approval is obtained from a licensed physician through dietary orders which may include:
•
Designate an allergen-safe food preparation and consumption area.
•
Provide advanced copies of menus for parents/ guardians to use in planning meals.
•
Sanitize table/chair where the child sits before and after breakfast/lunch/snacks.
Approximately five to six percent of the pediatric population has had an occurrence of a food allergy, with eight foods accounting for 90 percent of allergic reactions. The most common foods that students are allergic to are peanuts, shellfish, fish, tree nuts (walnuts, cashews, pecans), eggs, milk, soy, and wheat. Currently there is no cure for food allergies and strict avoidance is the only way to prevent a reaction from happening.
For more information refer to
FDA.gov
Frequently Asked Questions:
Is there a difference between food allergy and intolerance to foods?
A food allergy is an immune-mediated reaction. This means that the body's immune system identifies a food as hazardous, and then creates antibodies that lead to an allergic response. An intolerance is caused by the body not producing any or enough enzymes that break down specific constituents of food.
How does the school prevent bullying around food allergies?
Having a food allergy is considered a disability. A student experiencing bullying based on a disability is discrimination and is a Section 504 violation. Complaints can be made to
the Office of Civil Rights.
Where can I get additional information about managing food allergies in schools?
CDC Voluntary Guidelines
USDA
Institute of Child Nutrition
Food Allergy and Anaphylaxis Connection Team
Food Allergy Research and Education
Wellness Policy
Syracuse City School District views wellness as an active process to achieve lifelong social, mental, and physical health. To help our students reach this state of wellness, we have developed a tailored wellness plan as well as implemented programming that support and help our students achieve the highest levels of success.

Overview of Wellness:

The Syracuse City School District's mission is to build, support, and sustain school communities that provide all students with a high-quality education that prepares them to graduate as responsible, active citizens ready for success in college and careers and prepared to compete in a global economy. Through research we have seen how good nutrition, physical activity, and social interaction are strongly correlated with positive student success in the classroom. To achieve maximum student wellness, the Syracuse City School District participates in the National School Lunch Program and School Breakfast Program as well as partners with the American Heart Association and National Dairy Council's Fuel Up To Play 60 program. These collaborative programs incorporate wellness at the individual level as well as into the surrounding community.

Our Wellness Programs:

Some of our schools also participate in the Fresh Fruit and Vegetable Program which is hosted at participating elementary schools for grades Pre-K through 6th. The students are offered a variety of free produce samples three times a week coupled with a relevant nutrition education in the classroom. This allows the students to experience new and exciting healthy foods and increase their weekly consumption of fruits and vegetables.
During the summer months we understand that nutrition is still important to stay active and healthy. That is why we have implemented our annual Summer Food Service Program which has delivered more than 142,000 meals since 2018. This program provides free meals daily to children 18 years and younger who reside in Syracuse. The meals can be picked up at select sites including, but not limited to, schools, parks, community centers, libraries, and churches. Click on the link below to find a distribution center near you this summer.

Link to Summer Food Service Program's Distribution sites

What Can You Do?

The Syracuse City School District allows its students to purchase "competitive" foods after the first ten minutes of a scheduled lunch period and after school. These competitive foods are any food or beverage not sold as part of that day's menu items but still must follow the USDA's Smart Snack guidelines. We also partner with the below programs when appropriate for fundraising events or classroom birthday parties.

- Domino's Pizza Smart Slice Program
- Hershey's Smart FUNdraiser Program
- Fresh Fruit and Vegetable Program
- Subway Eat Fresh Fundraiser
- SCSD Single Serve Snacks

Not sure if the food you are sending with your child meets the USDA guidelines for a Smart Snack? The USDA has developed a Smart Snacks Product Calculator to take all the guesswork out of choosing a healthy treat for your children. Follow the link to learn more.
https://foodplanner.healthiergeneration.org/calculator/

Link to SCSD Wellness Policy
Hunger Prevention
Hunger and food insecurity are two big issues that we aim to address every day when your child comes to school. Not having enough food for an active, healthy lifestyle or having a limited availability of healthy, nutritious foods can lead to poor health, developmental delays, and social problems. Read more here about some programs our department runs and ways we promote good nutrition in our students!

Hunger in Syracuse:

Hunger is a common issue for many of our students and their families. Not having enough food for an active, healthy lifestyle can lead to poor health as well as performance in the classroom. Health issues can include more stomach aches, frequent headaches, behavioral issues, or lower math scores among others. In Syracuse, the average household makes $31,881 per year, meaning that 50% of children are living in poverty. In the Syracuse City School District, approximately 80% of our students qualify for free or reduced-price lunch, and because of this everyone in the District has the option to have a free breakfast and lunch every day. Between these two meals, we provide 2/3 of a child's daily nutrition needs. Our aim through our various programs is to address and reduce childhood hunger in our students.
https://map.feedingamerica.org/county/2016/child/new-york/county/onondaga
http://www.ongov.net/health/documents/FoodEnvironment.pdf

Breakfast After the Bell
Hunger makes school harder. Students who eat a school breakfast have higher scores on standardized tests, lower levels of behavioral, emotional, and educational problems, higher graduation rates, and higher school attendance. Our "Breakfast After the Bell" program allows students to still get a free breakfast, even if they come late to school.
This program provides all children in participating elementary schools Pre-K-6th grade with a variety of free produce samples during the school day. It is an effective way of introducing our students to new produce that they otherwise might not have had the opportunity to sample. The USDA FFVP toolkit provides nutrition education lesson plans & resources to help support school classrooms in reaching the goal of a healthier school environment as outlined in the Syracuse City School District Wellness Policy.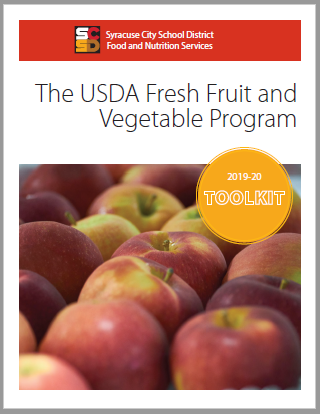 Blessings in a Backpack:
The Blessings in a Backpack program aims to organize communities, individuals, and resources to provide food on the weekends for elementary school children across America to make sure they do not go hungry. Each child gets sent home on Fridays with a large backpack full of satisfying and nutritious food. This program currently runs in five of our schools and has served more than 1200 children to date. Participating schools and sponsors include:
· Clary Middle School, sponsored by Eastern Hill Bible Church;
· Delaware Primary School, sponsored by Bellevue United Methodist Church;
· Franklin Elementary School, sponsored by the Syracuse Diocese;
· STEAM at Dr. King Elementary, sponsored by Centro, and;
· Seymour Dual Language Academy, sponsored by the Liverpool Fund.
If you wish to make a donation to the Blessings in a Backpack program, you can either mail a check made out to "SCSD" with "Fund #1912" in the notes section or click on the link below for online donations.
https://www.blessingsinabackpack.org/donate-to-a-specific-program/ - In the "Enter Program/School Below" text box, please write in "Syracuse City School District Fund #1912."
https://www.blessingsinabackpack.org
The Syracuse City School District has entered into an agreement with The NYS Department of Education Child Nutrition Administration to offer meals free of charge to all students of the City School District beginning with the 2012/2013 school year. To qualify, our student population is directly matched to the benefits they receive through several documented programs. Reimbursement is based on the percentage (plus a multiplier) of documented students. This reimbursement is guaranteed for a minimum of four years, with an option for a fifth available. SCSD has qualified for a new cycle beginning with the 2017-18 school year.

While this program benefits all students regarding meal service, it is still vitally important that we continue to collect eligibility applications to continue other services offered by the District. You may access the Parent Letter & Instructions and the Household Income Eligibility application with a link to the right. There are many competitive grants that use the financial information collected from the Household Income Eligibility Form.

Annually, the Syracuse City School District sends out an application to all parents or guardians of students attending the District requesting the application be completed and returned. A self-addressed stamped envelope is provided with the application. If you have received a request to complete a Household Income Eligibility form, please complete one application for all family members. This assists in getting all of the information on one application and eliminates the need to complete an application for each child. The application is valid during the current school year and through the last day of September of the next school year.

If you feel you do not qualify you may complete the application by stating that you do not qualify across the body of the application. Please identify the students at the top of the application and sign at the bottom. No other information is necessary. If you are unsure whether you will qualify, a household income chart is included with the request for application. If your income, based on your family size, falls below the income listed in the income chart you qualify and we request that you fill out the application completely and return it.
---
In accordance with Federal civil rights law and U.S. Department of Agriculture (USDA) civil rights regulations and policies, the USDA, its Agencies, offices, and employees, and institutions participating in or administering USDA programs are prohibited from discriminating based on race, color, national origin, sex, disability, age, or reprisal or retaliation for prior civil rights activity in any program or activity conducted or funded by USDA.

Persons with disabilities who require alternative means of communication for program information (e.g. Braille, large print, audiotape, American Sign Language, etc.), should contact the Agency (State or local) where they applied for benefits. Individuals who are deaf, hard of hearing or have speech disabilities may contact USDA through the Federal Relay Service at (800) 877-8339. Additionally, program information may be made available in languages other than English.

To file a program complaint of discrimination, complete the USDA Program Discrimination Complaint Form, (AD-3027) found online at: http://www.ascr.usda.gov/complaint_filing_cust.html, and at any USDA office, or write a letter addressed to USDA and provide in the letter all of the information requested in the form. To request a copy of the complaint form, call (866) 632-9992. Submit your completed form or letter to USDA by:

(1) Mail:
U.S. Department of Agriculture
Office of the Assistant Secretary for Civil Rights
1400 Independence Avenue, SW
Washington, D.C. 20250-9410;

(2) Fax: (202) 690-7442; or

(3) Email: program.intake@usda.gov
This institution is an equal opportunity provider.