Corcoran Presents Its 2022 Spring Musical: The Drowsy Chaperone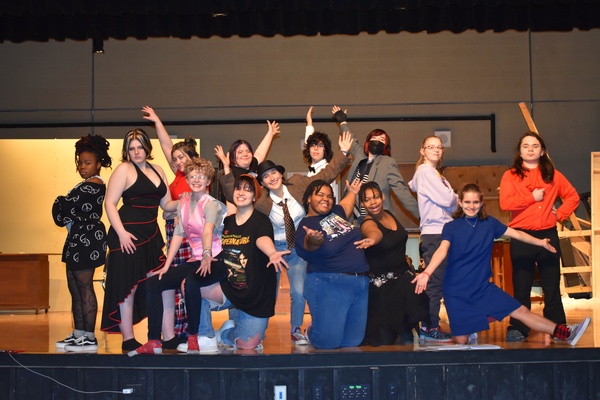 The Drowsy Chaperone is a parody of an American musical comedy of the 1920s. The story concerns a middle-aged, asocial musical theatre fan. As he plays the record of his favorite musical, the fictional 1928 hit The Drowsy Chaperone, the show comes to life onstage, as he wryly comments on the music, story, and actors.
Don't miss 'The Drowsy Chaperone,' which will be performed by the Corcoran Association of Student Theater (C.A.S.T.)! Shows will be performed on
Friday, March 18th and Saturday, March 19th at 7 pm
.
C.A.S.T. continues to offer its experimental 'choose-your-own-ticket-price' admission policy where audience are encouraged to pay what they feel the experience is worth and what they can afford to offer in support of the program. Admission is granted at the door regardless of what is offered – the troupe is happy to welcome anyone to the audience even if they cannot afford admission, and to appreciate any amounts their audience can afford to support their ongoing programming. A suggested ticket price of $5 is provided for anyone not comfortable choosing their own price.
See below for a list of student participants. We hope to see you at the show to support #SCSDArts!
Student Leaders:
Joey Wise - Student Director
Kye Robles – Stage Manager
Sofia Rifanburg – apprentice stage manager
Maresa Helu – Lighting Manager
Martin Graine – apprentice lighting manager
Alayna Cottet – Sound Manager
Ally Merron – Costumes Manager
Anna McDermitt – Programs and Publicity
Cast:
"Man In Chair" - Joe Wise
"Mrs. Tottendale" - Madison Conley
"Underling" - Emilio Hernandez
"Robert Martin" - Anna McDermitt
"George" - Nat Bernazzani
"Feldzieg" - Grace Irish
"Kitty" - Sierra Hernandez
"Gangster 1" - Rebekah Garlach
"Gangster 2" – Fatuma Abdulkadir
"Aldolpho" - Ian Rudy
"Janet Van De Graff" - Cristina O'Connor
"The Drowsy Chaperone" - Alyson Merron
"Trix the Aviatrix" - Kiley Monroe
"The Superintendant" - Ella Roerden
"Reporters" – Andrew Hernandez and Anarie Stewart
Photo provided by Corcoran student Alyson Merron.
Crew:
Emory Jones
Hailey Cesare
Sadè Sholtz
Grace Michaud
Tibrea Breland
Kara Shanahan
Mira Jensen
Shaimu Osmein
Tyara Oliver
Ariahanna Nickens
Sophia Posadas
Angelina Patterson