Dr. Weeks Students Celebrate Cultural Identities through Special ENL Project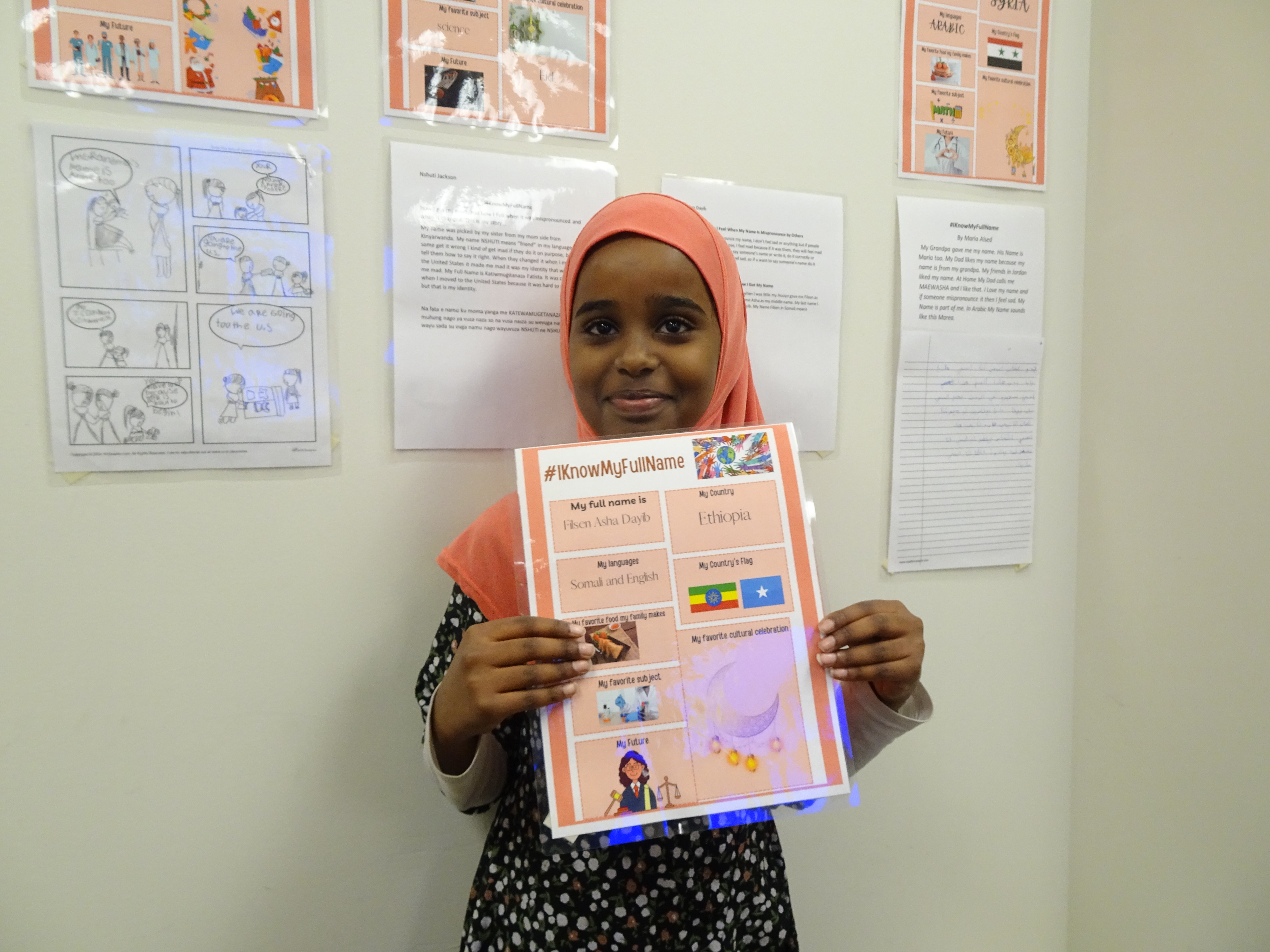 What's in a name?
English as a New Language (ENL) students at Dr. Weeks can tell you, thanks to a special cultural identity project they recently completed. The fifth graders researched and celebrated the origins of their names and identified ways that names are treated differently in society.
"I think it is so crucial to recognize, celebrate and leverage the linguistic repertoire of our students," ENL teacher Madison Shaw explained. "This is the first time I did this project, but with the students' joy for the project and their families' feedback, I know I will do it again next year!"
Ms. Shaw discovered the project, created by Dr. José Medina, on ELLevation, the digital platform the SCSD ENL department uses. Students were encouraged to have conversations with their families about how they got their names and why they are meaningful. Then, they started a writing piece in which they were encouraged to tell the story in English and in their native language. Next, students created visuals to represent their "full name," drawing important symbols that connect to their name, such as their country's flag, their favorite food, and more. Ultimately, the students were tasked with presenting their finished product to their classmates!
"I liked this project because I learned about my name," Rimaz AlNemr said. "My name means a lot of things that most people don't know about. Rimaz means 'like God.' My grandpa chose it for me because no one else has this name in my family. My name makes me feel brave and kind."
"Names are a way of showing respect, so it's important to say someone's name correctly," Anne Lubuya noted. "My mom chose my name, and she named me after my grandma. My name makes me happy, and my grandma likes that I get to share her name."
"My name is important to me," Lodrigue Basimise explained. "My mom and dad chose it because it means to be gentle and kind. My favorite part of the project was saying what my name means to me. It helped me learn to correct people if they say my name wrong!"
"I got my name from my mom," Augustin Hakizimana said. "My name shows kindness because it inspires other people."
We celebrate the #SCSDDiversity of our students and schools and appreciate projects like this that encourage students to celebrate their unique backgrounds, cultures, and identities!