Career Coaches Provide Real-World Advice for P-TECH Students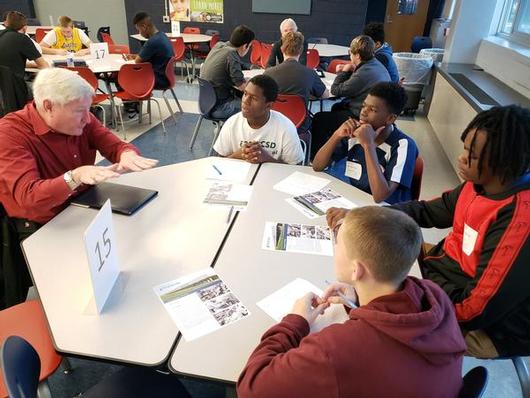 Through the Pathways in Technology Early College High School (P-TECH) program, SCSD students can earn a high school diploma, an Associate's degree at no cost within 5 or 6 years, and gain valuable workplace learning experience.
Thanks to a growing Career Coaches model, students in the program are also able to take part in regularly planned project-based activities with local business professionals working in their areas of interest. Projects range from students conducting informational interviews of their Career Coaches, design challenges where they work alongside the business professionals to complete a challenge, and more.
Career Coaching began at ITC in the fall of 2014 as a requirement of the P-TECH programs there. P-TECH program requirements include incorporating businesses into the educational process with local professionals as mentors. The SCSD took that concept a step further and created Career Coaches, working in partnership with the Manufacturers Association of Central New York (MACNY) and Partners for Education and Business (PEB) to recruit local professionals to serve as coaches.
Today, we have more than 250 business professionals that participate as Career Coaches with our 27 CTE programs in all SCSD high schools throughout the school year!
"It's really about a vision – helping students create a vision for themselves for their future in the business field they have chosen," Nick Lisi, SCSD Business and Higher Education Liaison for CTE, said. "We want students to hear from people in the field and become comfortable working with them. We tell students in 9th grade that with the Career Coaches, they're ultimately starting a long job interview. These are the same people that they could be going back to in order to apply for a job!"
Virginia Neumann is a HIM Compliance Specialist at Syracuse Community Health Center. She began volunteering as a Career Coach in the 2018-19 school year, where she works with 9
th
grade Health Information Technology students at Henninger. She said she enjoys engaging with students and hopes that all students will eventually have the opportunity to shadow a Career Coach to see first-hand what their future career might be like.
"I believe having a Career Coach helps students understand what type of jobs are available in the Health Information field, and having a coach to share their experiences and rewards in this profession gives them a good perspective on what it means to work in the health care industry," Ms. Neumann explained. "It makes me feel good to encourage these students to take the health information path and to show them the many opportunities they would have."
Heather Meyers is a Software Engineer in the IT Department at Onondaga Community College. She was first exposed to the PSLA at Fowler Computer Information Systems students when they toured the OCC campus in 2018. When she heard about the opportunity to become a Career Coach, she immediately signed up. Since then, she has worked with both 9
th
and 10
th
graders on a variety of activities and said the experience has been rewarding for both she and the students she works with.
"My favorite part of being a Career Coach is being able to take what I've learned and share it with the students so they have more knowledge," Ms. Meyers said. "At their age, it's hard to make a decision in terms of which career path you'll take. When you're able to talk to someone in the field, it helps. I enjoy being able to share my experience with them with the hope that it will be a benefit to them. It allows them to hear real-world experiences and it exposes them to expectations, terminology and more. Overall, it gives them more insight into the different areas they could work in when it comes to computers: they can deal with the inner workings of a computer, how servers talk to each other, networking, applications or more. It really gives them perspective in terms of the paths they could pursue."
Beyond the classroom experience, Career Coach partnerships have also led to internship and job opportunities. One partner recently provided paid internships for students to apply for over the summer, and others have offered students job shadows and even full-time jobs!
"The Coaches constantly see a need and reach out to their company to create the opportunity for our students," Mr. Lisi added. "They're with students in the school setting, but they're also out there creating opportunities for kids in the field, and that just helps continue our vision."
To learn more about the P-TECH and CTE programs offered in the Syracuse City School District,
please visit syracusecityschools.com/CTE
.
Announcements
Join Us to Learn More!
Middle school is the perfect time to start thinking about if P-TECH is the right fit for your child. Please join us for an information session to learn more about the Syracuse City School District's P-TECH Programs!

Henninger High School - Wednesday, January 15, 2020 (5:30 p.m. - 6:30 p.m.) 600 Robinson Street

PSLA @ Fowler High School – Thursday, January 16, 2020 (5:30 p.m. - 6:30 p.m.) 227 Magnolia Street