Health & Safety
---
Staff, Student & Visitor Screening
The health and safety of our students, staff, and families is a top priority. Before entering any District building, all staff, families and visitors must attest to the statements below. Parents/guardians are expected to screen their children using this Daily Home Screening Checklist for Students prior to sending them to school.

A temperature scan will be required upon entry as well.
3.

Healthy, No Symptoms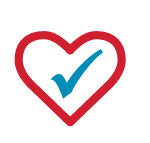 I feel well and do not have symptoms of a cough, shortness of breath/difficulty breathing, fatigue, muscle or body aches, headache, fever, chills, sore throat, or a new loss of taste or smell.
4.

No Recent Exposure
In the past 14 days, I have not been in close contact with anyone suspected or lab-confirmed with COVID-19.
5.

Diagnosis or Testing?
I am not currently clinically diagnosed as having COVID-19 or awaiting medically-directed COVID-19 test results.
6.

Not Quarantined
I have not been asked to self-isolate or quarantine by a medical professional or local public health official.
7.

No Travel
I have not traveled to any of the states listed by NYS as having travel restrictions within the last two weeks.
8.

Clean Hands
I am aware of the CDC recommendation for handwashing and the use of hand sanitizer.
Temperature Screening
All students, families, visitors and staff must have their temperature scanned upon entering a District building. You may wait 15 minutes and retake your temperature if higher than 100.0 F. If your second reading is still over the limit, you will be denied entry.
Fever-free (100.0 F and lower): Entrance is permitted with a reading of 100.0 F and lower.
Fever (Higher than 100.0 F): If a reading is higher than 100.0 F, entrance into the building will not be allowed.
Parents or guardians of a student with fever (greater than 100.0 F) should call their child's primary care provider and/or the Upstate University Hospital COVID-19 Hotline: (315) 464-3979. Staff denied entry must notify supervisor by phone, contact the Office of Human Resources at (315) 435-4171 and consult their healthcare provider and/or the Upstate University Hospital COVID-19 Hotline: (315) 464-3979.
Social Distancing
In School: Class sizes will be based on square footage of instructional rooms and ability to ensure social distancing. Students will be spaced a minimum of six feet apart in instructional rooms and in most cases have 10-12 desks per classroom. All desks will have wellness guards to protect both the students and teachers. Students should maintain at least 6 feet between themselves and others who do not live in their household and they should not congregate in locker rooms, hallways, bathrooms, cafeterias, libraries or other areas where people socialize.

On the Bus: Students will be seated with a distance of 6 feet apart except for siblings of the same household. Siblings will be allowed to sit 2 or 3 to a seat. Non-sibling students will be placed one student per seat directly against the bus window. Students with special needs or other disabilities will be accommodated with or without standard PPE. No student whether disabled, has a special need, or other will be denied.
Healthy Habits
Hand washing breaks for students and staff will be incorporated several times during the school day. Students should also wash their hands with soap and water for at least 20 seconds after blowing their nose, coughing, or sneezing, going to the bathroom, and before eating food. Always avoid touching eyes, nose, and mouth with unwashed hands. Students should always cover their mouth and nose with a tissue when coughing or sneezing or use the inside of their elbow. If soap and water are not readily available, use a hand sanitizer that contains at least 60% alcohol. Cover all surfaces of your hands and rub them together until they feel dry.
Cleaning, Sanitizing & Air Purification
Cleaning & Sanitizing
The District follows guidelines by the Center of Disease Control and Prevention (CDC) for cleaning and disinfection and will be doing both daily. If warranted, buildings may be disinfected by custodial staff during non-occupied hours using electrostatic sprayers and/or fogging style applicators with an EPA approved disinfectant.

Custodial staff will be diligent about disinfecting high contact surfaces that could spread COVID-19. Buses will be disinfected after every AM & PM run ensuring high contact spots are wiped down completely. A highly disinfecting spray will be used to disinfect the buses once per month.
Air Purification
The district has purchased two Intellipure Compact Air Purification Systems for every classroom. Initially, we will have one in every classroom but by the end of October we will have two installed in each classroom. These air purifiers have a particle efficiency of 99.99% at 0.007 microcon and with its patented DFS technology it removes up to 99% of airborne mold, bacteria and viruses passing through the system. They are ultra-quiet and perfect for the classroom setting. These systems will run 24 hours a day and seven days a week and their filters last for a year. This is an extra precautionary step to provide the cleanest air possible for our students and staff.

In addition to these new air purification systems, the District has modified HVAC operations to provide for more fresh air coming into buildings and to exhaust more air going out of the buildings. This is a recommended practice from the CDC and increases the air quality. We have also increased the frequency in which we clean the diffusers and coils in our HVAC systems and we have replaced all the air filters in our systems as well.
When Someone is Sick
If someone is identified by a building administrator or Human Resources as suspected of being ill or is confirmed to have COVID-19, the District will seek direction from the Onondaga County Health Department as well as the CDC's reopening decision tool. Custodians will disinfect in areas of the building where the person was present and sections of the building or the entire building may be closed for further disinfection or disinfected off hours depending on the circumstances.