SCSD to Host 'Confronting Racism' Video Chat on June 4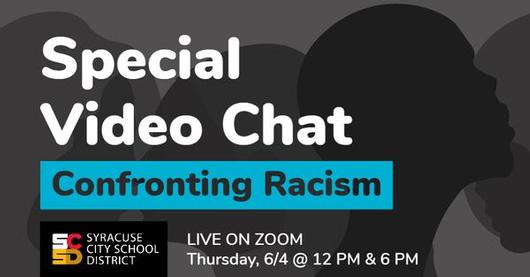 The SCSD Office of Family Engagement has created a space for you to process and/or debrief the stress and challenges we are all facing today between COVID-19, the killing of George Floyd, systemic racism, how to be an ally and more.
In lieu of our normal Tuesday and Thursday CoVideo Chats, we will be offering two opportunities for our SCSD family to process. This Thursday, June 4, 2020 at noon and again at 6 pm, we will be providing a session entitled, "Confronting Racism". Within this Zoom chat there will be breakout rooms to allow you to participate in the discussion that most speaks to your intellectual, emotional or spiritual needs.
The four discussion groups, which will be led by local professionals are:
1) How to Talk to Your Children About Racism
This session will allow you to explore best practices on what you, as a parent, can do to help calm your child's fears as well as how to help them understand what racism is and how to deal with it.
2) Being an Ally
What does it mean to be an "ally"? How can white people and others help eliminate racism in American society. If you've ever asked, "WHAT CAN I DO"? this one's for you.
3) Being Black in America
Session for Black people in America to process the recent, past and current challenges of being Black in America.
4) Supporting Students During these Traumatic Times
How can we as educators help our students process all that is going on? What resources are there in the community to help them? Find out during this session.
To participate in these sessions you MUST be authenticated on Zoom. It's simple and easy to do. If you already have a Zoom account, they'll do it for you! If not, sign in early with a valid email in order to enter the discussion. These measures are being taken in order to enhance your privacy and lessen the possibility of being Zoom-bombed during this sensitive dialogue.

You will be sent the link as a text just prior to the meeting
Questions? Call Rachel at 315-435-6459.