SCSD To Host Co-Video Chat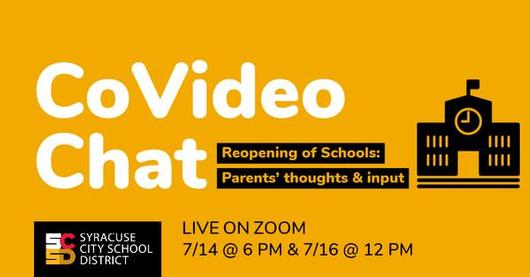 The SCSD Office of Family Engagement is hosting a CoVideo Chat titled ReOpening of Schools: Parents thoughts and input! The Chat will take place on Tuesday, July 14th at 6:00 PM and Thursday, July 16th at 12:00 PM.
To participate in these sessions you MUST be authenticated on Zoom. It's simple and easy to do. If you already have a Zoom account, they'll do it for you! If not, sign in early with a valid email in order to enter the discussion. These measures are being taken in order to enhance your privacy and lessen the possibility of being Zoom-bombed during this sensitive dialogue.
Questions? Call Rachel at 315-435-6459.