Nottingham Students Enjoy Classic Films in 'Film Society'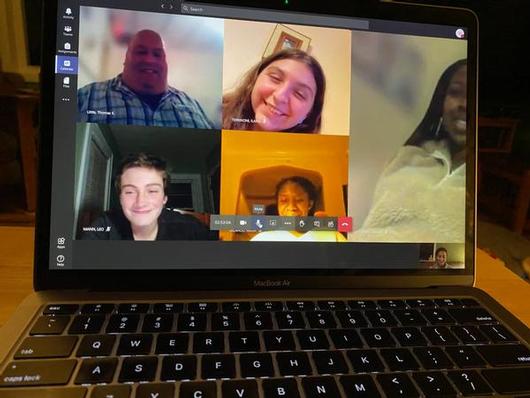 The 1945 classic 'And Then There Were None.' Alfred Hitchcock's 1954 thriller 'Rear Window.' Gidget. Gigi. My Fair Lady. Gone With the Wind. To Sir With Love. The list goes on.
In the Nottingham Film Society, students join together each Friday to watch a classic film. This year, the group has been meeting virtually, via Teams. But the camaraderie that comes from the shared viewing experience is still the same.
"I'm just excited to start watching movies again," senior Sinead Feeney O'Connor said of the Film Society's Teams viewings. "I really love movies and it's a fun thing to do on a Friday, to watch movies and relax after a whole week of school."
Sinead started attending the group regularly her freshman year after watching the 1967 thriller 'Wait Until Dark' with Audrey Hepburn.
"It was so fun to watch," she recalled. "I realized that the classics… they were good movies! We watched a lot of musicals and movies from the 40s and 60s and that era – the feel good, happy movies. I probably wouldn't have been introduced to them without Film Society. Some of the older movies are strange to watch… if you watch the really old ones from the 30s and 40s, they are reminiscent of the silent era, and their faces are so exaggerated. The acting and film styles are so different today – everything is so realistic now. It's so interesting to see the differences!"
Nottingham teacher Tom Little has been advising the club for 14 years. He said he has one rule: he won't show anything R rated. He will show classics, even panned ones (he noted that one year, the club viewed the 1959 film 'Plan 9 from Outer Space,' once voted the worst movie ever made).
"You name it, we've watched it," Mr. Little said. "The goal is to make this fun for them, to expose them to films and actors and actresses they've never heard of and to turn them on to a time period gone or lost."
Students are invited to select films, as well. If a student's film is selected, the student gets to present about it first – why they picked the movie, and what it was about the film that inspired them. What a great way to help expand students' horizons and give them a glimpse into entertainment history!