ITC Students Collaborate to Compose Music, Film Submission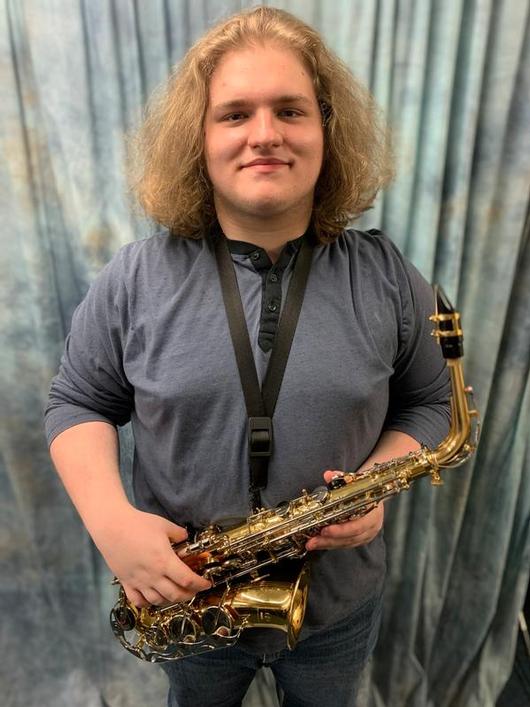 This school year, ITC offered its first band program and lessons. Band Director Julie Stuetzle was looking for something that would inspire students, and she heard about other school districts offering virtual band concerts. She thought of doing the same – and then her students improved upon the idea!
"One of my saxophone students in 10th grade, Zayde Lekic, is also a composer," Ms. Stuetzle explained, noting that she asked if he would want to compose something for a performance. "As the students brainstormed, they came up with the idea of creating an ITC music video and entering it into the CNY High School Film festival in June."
Media Communications teacher Jeff Newell and his students jumped on board, offering their equipment, studio and editing expertise to help. Collaborating virtually, plans came together, with Zayde composing the piece, called Oceanside. Classmate Angelina Grevi created animation, and Cynthia Padilla created the artwork bookends for the film. The band students practiced their parts and took turns visiting the school's studio to record, and then Zayde got to work sound editing, passing his final work along to the media students for final film editing.
Zayde had been experimenting with composition for some time and had already been taking Virtual Studio Technology (VST's) and trying them out with different chord progressions. He had already started composition on Oceanside, but had gotten to a point where he felt he couldn't develop the piece further. Thanks to a connection Ms. Stuetzle had at Syracuse University, Zayde partnered with a Composition teacher there to pick back up on his project, learning about music theory including chord voicings, articulations, and relations between notes, later advancing into more complex topics.
"The part I loved about working on this project was seeing all of the members involved get stimulated creatively," Zayde said. "Seeing so many creative minds huddle together and churn out an artistic project is truly a spectacle that I hope everybody can experience someday. For me, art acts as a lens that can help me see through other people's eyes. Seeing the process of that lens being made is just as fulfilling as the outcome. It helps you understand how a person ticks. That's the beautiful part, it's just a level of joy and curiosity that not many things have sparked in me. Everybody did a great job. I'm so proud!"
Zayde noted that his biggest challenge was audio mixing, noting challenges in pitch correction and other subtle corrections. He hopes to continue pursuing music, and is currently working on a demo tape which he will send to record labels and art groups.
Freshman Angelina Grevi, who animated frames for Oceanside that became a moving picture, this project helped encourage her interest in the arts – she hopes to work in art galleries where she can use her work to motivate others.
"The best part of working on this project was seeing it all come together," Angelina said. "It was motivating to see my animation frames become a moving picture. I came to ITC to do something with my artistic talent and to improve and learn about new mediums such as virtual media. I believe that this project was an introduction to a pathway I never thought of before: animation. The fact that my animation and Zayde's composition will be viewed and listened to by hundreds of people is something I couldn't fathom. I'm simply a small artist looking for an outlet, but I never thought that it would be this huge!"
Freshman Cynthia Padilla, who made the artwork bookends for the film, said the biggest challenge was the lack of physical contact with her classmates, since they were tasked with piecing everything together while collaborating virtually. For her, that also became the biggest inspiration.
"My favorite part of this project was working together to make something astounding," Cynthia said. "I wouldn't have thought that so many people could come together at a time like this and make something incredible, yet that's what happened! Having something I helped with be shown in a film festival is amazing… it seems like a dream come true."
Congratulations to these talented ITC students on their impressive effort to find a unique way to share a love for music with each other – and the larger Syracuse community!