SCSD Students Impact City through Syracuse Youth Advisory Council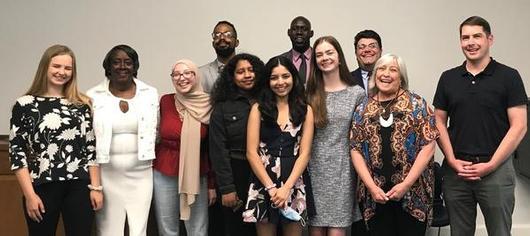 Several SCSD students had the opportunity to participate in the 2021 Syracuse Youth Advisory Council, an advisory group established by the Syracuse Common Council and facilitated by the SCSD Social Studies Department. Through their virtual meetings, the students identified community issues, learned about public policy and created projects focusing on community improvement, development and support.
Helena Giner (Nottingham) and Brian Huyn (Henninger) created an accessible comprehensive directory for families and people with disabilities, providing essential contact information for regional services. Chadani Timisina (Corcoran), Yasmine Kanaan (Nottingham) and Martine Dosa (Nottingham) focused on supporting the efforts of local organization RISE (Refugee and Immigrants Self Empowerment center), and their services to refugee students in the Syracuse City School District.
The students presented their final projects to the Syracuse Common Council in May, receiving generous support for their projects, which will both receive funding. Congratulations to these civic ready students!