ITC Students Use Video Portal to Make Friends in South Africa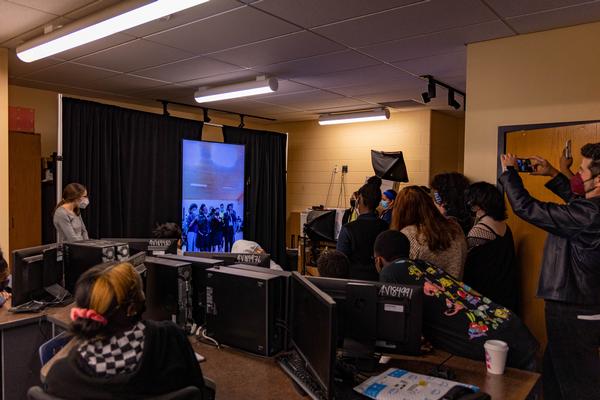 Each morning, as students in ITC's Media Lab work through their morning routine of reciting the Pledge of Allegiance and creating their Morning News Show, they're being watched.
On an 86-inch monitor in their classroom, the students are connected live with learners from the Joza Youth Hub, located in South Africa – where those students are just ending their day. Together, they journal, observe each other, and most importantly, connect. The students – located oceans apart – have bonded over everything from movies, computers, fashion and hairstyles to climate and time differences, and more.
"The monitor with high resolution web cam gives an almost 1:1 perspective," Media Communications teacher Jeff Newell explained. "It feels like we are looking and talking directly to each other. It is essentially a door opened between our two rooms in our schools! I've loved starting every morning meeting our new friends."
Thanks to Syracuse University's Ken Harper, associate professor of visual communications and director of the Center for Global Engagement at the S.I. Newhouse School of Public Communications – and funding from several foundations – this 'Syracuse to South Africa Portal' was formed. As the partnership develops, students in Syracuse will be paired up with students in Makhanda, South Africa for one-on-one conversations about their lives.
"I think it's really amazing that we have the technology and the opportunity to be able to talk to the kids our age across the world in Makhanda," ITC junior Jasper Cotroneo said. "It's been a very engaging and insightful experience. It's eye-opening to see how life for the students in Makhanda is both similar and different to how life is for us here in Syracuse."
Jasper noted that through these conversations, they learned that the students in Makhanda have a fashion sense similar to many at their own school. The two groups of students even bonded over dancing, having a virtual dance-off together!
ITC junior Serenity Baxter said the experience has piqued her curiosity, allowing her to gain a perspective beyond her own community and her own country.
"This program has given me a different perspective by opening me up to different cultures," Serenity shared. "The learners in South Africa performed their national anthem in multiple languages, and it inspired me. It has also helped me to see that there is a universal language among students! Even with a slight language barrier, we all have fun, talking about photography, fashion, and pop culture."
Serenity added that she loves learning new languages – she is currently learning Russian and German. The connection with her new friends in South Africa has inspired her to try to learn Xhosa, categorized as a click language, which is one of the main languages in South Africa!
Students have also carried what they've learned from their South African counterparts into their regular media class, using these new experiences to start conversations about racism and the civil rights movements in the United States and South Africa – celebrating the diverse school environment that they get to experience here in Syracuse.
We're proud of these ITC students for engaging in this unique opportunity and becoming #SCSDCivicReady!
(Photo provided courtesy of Courtney White, Syracuse University.)