Elementary Students Become Published Illustrators through Boundless Books Program
Second grade students at Franklin and HW Smith are now published authors, thanks to the Boundless Books project and their own creativity!
In "Layla The Stripeless Tiger," HW Smith students in Cathy Kennedy's class wrote a story about a tiger named Layla. The problem? Layla didn't have stripes, and she was made fun of as a result.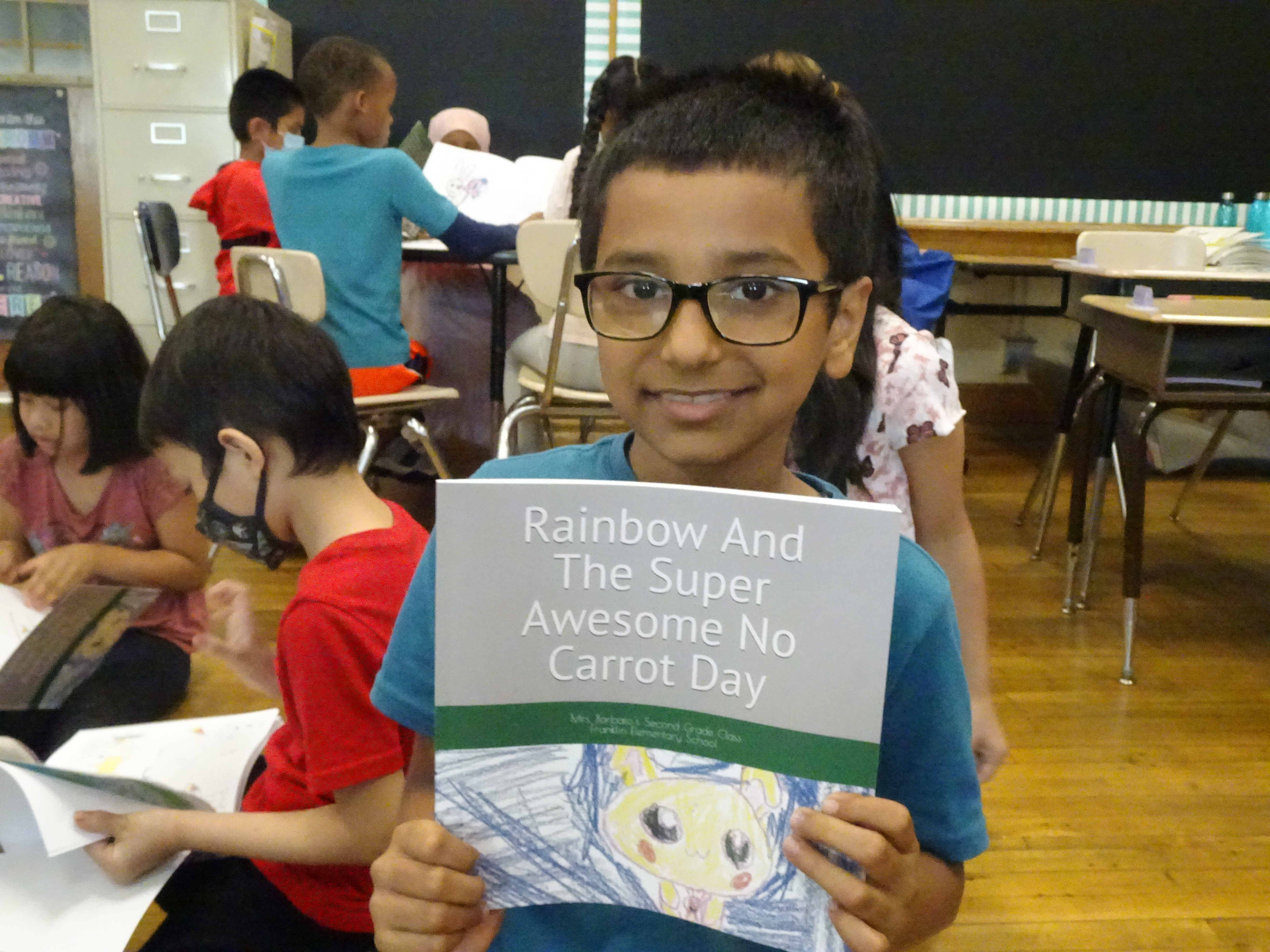 Working with local author Mark Eischen, each week, students worked together to develop their story – choosing not only the character and the conflict, but also the setting and the outcome. They were each given part of the story to illustrate, and they helped write the story by compiling a list of rhyming words (stripe/type, cave/brave).
"This is the first time I've written a book," HW Smith 2
nd
grader Zoe Jefferson said as she drew a picture of baby Layla with her mother. "It's fun! I like that I can make it how I want it to be."
"This is the first time I've made a book," classmate Adam Del Rosario shared. "But I like to write and I've written stories before. My favorite part of this one is the tiger, because she learns it's good to be herself."
How did the class determine that Layla's story would end?
"She finds other animals that don't have stripes and learned that her stripes aren't what make her who she is," Alexander Thompson explained. "She finds out that not having stripes like everyone else makes her unique!"
Over the course of five weeks, students developed their characters, plot, illustrations and more. By the sixth week, their book was sent to the printer!
"I've written a couple of children's books myself and wanted to design a program that could help kids do the same," Boundless Books founder Mark Eischen explained. "It is my hope that they will have a sense of pride at becoming published authors and illustrators and they will continue writing after the program is completed!"
At Franklin, students in Margaret Barbato's class worked together to tell the story of "Rainbow's Super Awesome No Carrot Day." At the end of their project, Mr. Eischen stopped by to deliver a printed copy of the finished book to each student in the class.
"You guys are officially worldwide authors and illustrators," he exclaimed to the students. "Your illustrations brought this book to life!"
"I can't wait to show my mom," one student shouted in excitement.
"There's my name!" another shouted as she spotted her name listed on the Author/Illustrator page at the back of the book.
"Here's the picture I drew," one student said as he pointed to a page featuring a colorfully illustrated rabbit surrounded by food. "She's running and playing games and looking at lizards. When I grow up, I'm going to be an illustrator!"
HW Smith 2
nd
grade teacher Cathy Kennedy said the experience was a great way to engage all of her students.
"I work in a second grade inclusion classroom with 27 students," Ms. Kennedy explained. "I have students working at various ability levels. This was a great opportunity because the students were able to be involved in this process in different ways: drawing, writing, teamwork, and more. I loved that they received their own copy of the final product at the end… it's a great keepsake!"
Since Boundless Books began in 2017, Mr. Eischen has worked completed nearly a dozen books in partnership with school classes across the area. All completed books are available for purchase at Amazon and other online retailers! To learn more, visit
www.boundlessbooks.org
.