ITC Students Gain Work Experience through Local Internship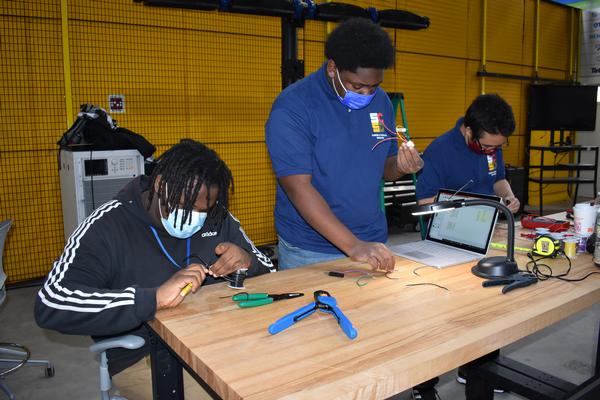 Six ITC engineering students gained resume-building work experience last school year, thanks to their teacher, Chris Nolan, and his company, M3 Innovation.
While their peers in the ITC P-TECH program took courses at OCC, these students chose to engage in workplace experience, learning and perfecting the skills that may one day help them land a job.
At M3 Innovation, staff are currently in the prototyping and early product launch phase. The students have assisted in building and testing wiring harnesses used to power new sports lights; take apart, troubleshoot, and rebuild lighting fixtures; measure and inspect parts; modify parts mechanically; create programs and scenes to make various light effects; and more. They also helped create a mini football field and bleachers that were built for a sales display.
Junior Michael Fragola said the experience was a nice change of pace from the normal school day and has helped inspire him as he thinks of his future career.
"It was really fun," Michael shared. "Everyone else in the program wants to do this internship now! It was nice just to be there in a work environment. It's comfortable working there… it's not as sterile as being in a classroom and it feels like you have the freedom to work at your own pace. I hope to modify cars for my career, and the internship has showed me that I can do anything – I just have to take the time, have patience, and work hard."
"They are pretty proud of what they have done," Mr. Nolan explained of his student interns. "The kids are having a lot of fun. It's unique for them to be exposed to a startup business at this phase, and they are thriving! It has really been a win-win. Our company, and other companies surrounding us in our shared building, love having the students there; and the students can now add actual work-based experience to their resumes to help them in the future."
Thank you to Mr. Nolan and the staff at M3 Innovation for helping ITC students put their skills to use and become career ready through this internship!