PSLA Fire Rescue Students Get Head Start in Summer Bridge Program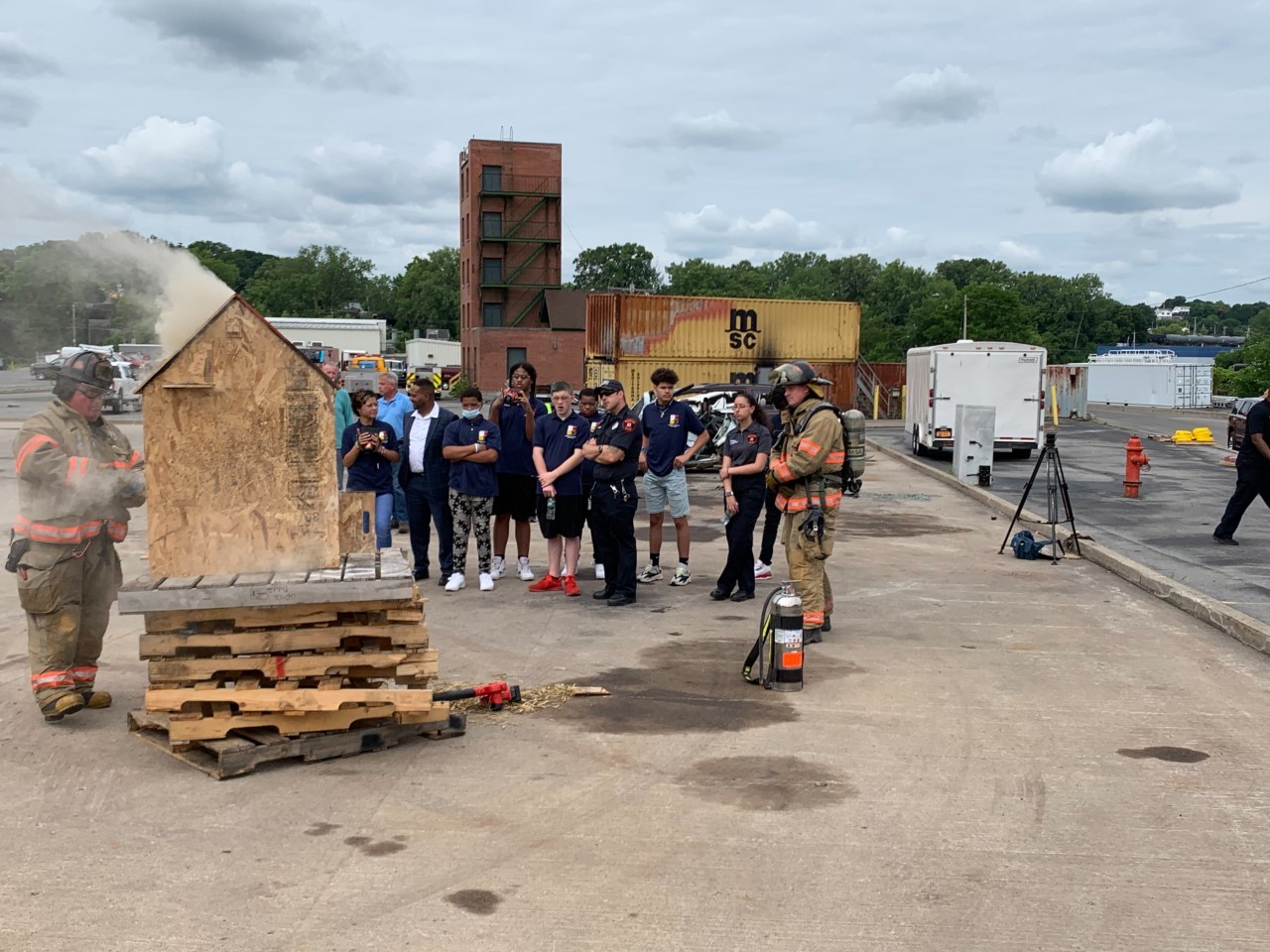 This summer, a group of PSLA at Fowler students toured a Syracuse Fire House, visited the Syracuse Fire Department Training Center, and went to AMR to learn about Ambulance Response Calls. They learned career readiness practices and met professionals in the Fire Rescue field. In short: they became prepared for the future!
As part of a four-day summer bridge program, incoming 9
th
and 10
th
graders in the PSLA at Fowler Fire Rescue program engaged in a variety of activities to help give them a jump start on what they'll be learning next school year.
"We're looking at summer bridge as an early opportunity for students to become comfortable with the building, teacher, their classmates and have some fun educational activities with Syracuse Firefighters," PSLA at Fowler Work Based Learning Coordinator Rick Voss said. "The Syracuse Fire Department did a great job with their demonstrations and activities. It was an excellent experience for our students, and they seemed to really enjoy it!"
This is the first year this summer bridge program has been offered, providing Fire Rescue students with the opportunity to get an orientation to the concepts – and people – they'll be working with in the new school year. Students received a review of the school's Fire Rescue pathway and toured the classroom and the school's equipment. Freshmen participated in a scavenger hunt to help them become familiar with the school, and all of the students enjoyed visits from Syracuse Fire Department Staff and learning about the Candidate Physical Aptitude Test.
Incoming freshman Laneiyah Rudolph hopes to be a firefighter when she graduates.
"I love the feeling of knowing that my job is to save peoples' lives and to help people," she explained. "I feel the bridge program is a great way for me to start on that path."
Laneiyah described how the summer bridge program allowed her to practice putting on the fire gear and equipment – her favorite part.
"I liked to time myself and see how much I improved," she said. "We also went to a couple of places that allowed us to see what daily life is like as a firefighter and in those types of jobs. I think it's given me a big head start, because it helped me prepare for what I'm actually going to be learning in the program in the fall. This isn't like any other summer program I've done… now, I'm looking forward to getting good grades and being on my way to becoming successful in this field!"
We're proud of the Fire Rescue students who attended this year's Bridge program to get a head start on the new school year!