High School Physicists Help College Professors Conduct Research in Paid Summer Internships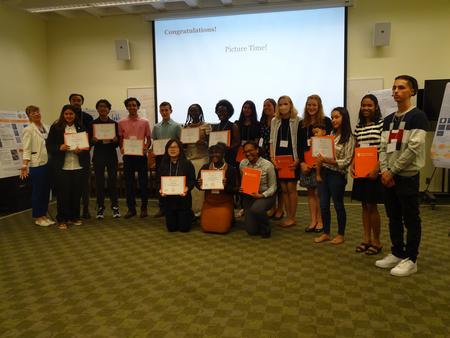 This summer, Henninger senior Camryn Collins studied the interactive behavior of Proteus Mirabilis HI4320 and BB2000 on numerous concentrations of Agar.
"This is biophysics," Camryn explained. "I saw how different strains of bacteria really make a difference. We can study and sort out different concentrations of bacteria and examine how they react in peoples' bodies and use that to advance what we know about science."
ITC senior Abdullah Ghanem and Henninger student Muhammad Adnan studied the changes in microtubule lengths and velocities over time.
These three, along with 10 other Syracuse City School District students and recent graduates participated in a six-week paid internship in the Syracuse University Physics Department this summer. There, these talented physicists and scientists worked in laboratories alongside SU students and professors, where they researched biophysics, computational physics and astrophysics.
The Syracuse University Research in Physics (SURPh) Internship was created after a Henninger High School alumnus, Ruell Branch ('20), suggested that his former high school would be a great place to recruit physicists.
"I know how hard it can be to get opportunities at the college level to research with professors in a lab," Ruell explained. "A lot of these students are already interested in science, so this opportunity allowed them to see what it's like in that environment so they can have a better idea of if this is something they may want to pursue."
In addition to being provided with a generous stipend, participating students were also provided with daily transportation, meals, mentoring, and training in advanced lab techniques. Each week, they were offered weekly lunches with professors to help them learn more about science, as well as weekly social events to allow them to have fun on the SU campus.
"I want our students to be see themselves in a STEM major," Henninger Science teacher Melanie Pelcher, the SCSD Coordinator for the SURPh Internship, said. "I am hoping that we have provided the right mix of supports and opportunities for them to thrive and that this confidence will help them to be successful as they take the next step in their academic journey toward higher education."
At least a couple of the SCSD scientists said the experience further piqued their interest in the field.
"I'm planning to study economics, but there will be physics in my future somewhere," PSLA at Fowler graduate Iving Yang said.
"This experience opened my eyes to all the possible career paths in the field of science," Abdullah said. "Now, I see opportunities beyond a four-year degree. I could pursue a Masters or a Ph.D. I'm definitely going to consider pursuing biology or physics because of this experience."
Congratulations to the SCSD students – and recent graduates – who spent their summers expanding their learning through this program!